If you plan on traveling from Zagreb to Split this summer, here is a useful guide on how to find the best way to travel between two of Croatia's biggest cities.
In this article:
There are many ways of traveling from Zagreb to reach the sea. Some of them are slower but more economical while others are much faster but implicate higher travel costs.
If you want to save as much time as possible, flying is the fastest way to travel between these two cities.
But if you're interested in natural beauty, unspoiled nature, national parks, and mountain landscapes, than I suggest you to travel by car.
From Zagreb to Split by Car
The driving distance between two cities is about 410 km. Traveling by car has some advantages but it's considered the most expensive way of traveling.
Advantage of traveling by car is first and foremost in the freedom to stop when and where you want see some interesting sights.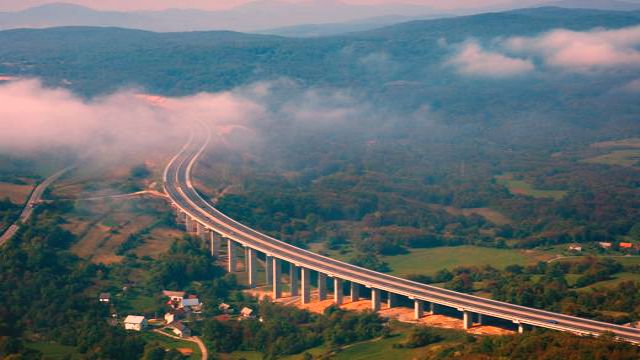 The first place that comes to my mind is undoubtedly the UNESCO natural heritage site of Plitvice Lakes.
Fastest route – E71 highway
Traveling by car will take approximately 4 hours. This accounts for travel from Zagreb to Split via E71 highway route, driving all the way from Zagreb to Dugopolje and continuing to Split city center.
This is the fastest route you can take, and our highways are quick and convenient ways to travel. Below you can find a quick overview of costs involved, or alternative route if you wish to avoid paying tolls.
Zagreb to Split by car costs
You should consider toll fees on this route which will cost you 25 EUR. Since 2017 there's an additional increase of 25 Kn (€3,37) in toll prices during our tourist season peak in July and August. All tolls in Croatia are payable with Euros as currency, or you can use credit cards.
When calculating travel costs you should also consider gasoline. From Zagreb to Split with about 400 KM you can expect to spend approximately 50 EUR.
Alternate route – D1
There is also an option to avoid the highway and to take D1 route. This route means traveling on local roads, and although they don't have tolls they are considerably slower. Your driving time on D1 will take 5 to 6 hours.
D1 route also gives you a convenient possibility to visit Plitvice Lakes along the way. Most travelers while traveling to Split or other Dalmatia coast destinations stop on these lakes to enjoy a calm day in unspoiled nature.
View Zagreb to Plitvice route on Google Maps here! It takes just under 2 hours to reach Plitvice Lakes from Zagreb via E65/E71 and D1 which is the fastest route, or 2 hours and 20 minutes via D1 only.
Renting a car
If you want to rent a car for your trip to Split from Zagreb, you can find the best offer here — this will compare dozens of car rental companies to give you best prices.
Alternatively you can even hire a private driver to take you from Zagreb to Split. It costs nearly €500, but if you're sharing costs with 3-4 people it may be affordable.
Average toll prices in Croatia are about € 6,5 per 100 kilometers. As a comparison in France and Italy the average price is €8, Spain €9,5, Portugal €6, and €4-10 in Greece.
Zagreb to Split by Bus
Zagreb bus station address:
Avenija Marina Držića 4, 10000, Zagreb, Croatia.
Bus transfers in Croatia have always been known as an excellence service, very frequent and relatively cheap.
Distance from two cities is often covered with up to 30 buses a day, more than enough. This number is slightly lower in lower season, but sufficient to get to Split even in winter period.
Buses take the same routes as noted above for cars: faster E71 highway, or slower D1 local road.
Prices and bus comfort depend on which road you decide to take, where faster is obviously more expensive.
Ticket prices range from 95 to 205 Kuna (€12,80 – 27,50), and there may be additional fees for luggage.
Transfer time varies from five hours (faster route) to more than 6 hours (slower route). Some companies offer TV and on-board WiFi in their buses.
Zagreb to Plitvice Lakes and Split by bus
If you are traveling by bus to Split and passing through the fabulous Plitvice Lakes, you will actually have to buy two tickets if you decide to stay a day or two on Plitvice Lakes.
There is no bus station on National Park Plitvice Lakes, but instead a number of bus stops on the main road passing through the national park. Plitvice has two official entrances from where you have easy access to various walking trails through the park.
Most of the buses departure from the bus stop at entrance 1, some also from entrance 2 and Mukinje entrance. When you buy a ticket to Plitvice, don't forget to indicate the entrance number! The entrance will be clearly indicated on your bus ticket when buying online.
Below you can check the exact location of the bus stops and park entrances, on the map!
How to travel from Zagreb to Split by bus visiting Plitvice Lakes? From Zagreb, there are numerous buses to the Plitvice Lakes.
The distance is 140 km and journey lasts about 2 hours 20 minutes. You can book tickets on the Zagreb Bus Terminal website, or try the convenient Flixbus to search for routes and timetables.
From Zagreb main bus station there are fewer daily buses during winter season, and about 10 daily buses during the summer season. Price for a one way ticket is about 100 Kuna (€ 13,50).
It should be noted that it's also very easy to book a day trip from Split to Plitvice Lakes for less than €100, so you can always choose that option. Either way I'd definitely recommend not missing it.
From Zagreb to Split by train
Train is also a very popular way of transportation between two cities, although it's most certainly the slowest way to travel with over 6 hours or more.
Actually Zagreb to Split is the only train connection that runs between Croatia's inland with Central Dalmatia.
There are two trains a day from Zagreb and some extra night trains during the summer season. You can find latest schedules and even buy tickets on HŽPP, official website for Croatian railways.
Typically there are two trains running between two cities every day, with night train running on some days:
07:35 departure from Zagreb (arrival 13:37 in Split; 6h duration)
15:21 departure from Zagreb (arrival 21:23 in Split; 6h duration)
23:05 night train departure from Zagreb (arrives 06:48 in Split; 7h 43m duration)
These trains run daily, but schedules may change so I recommend double-checking it beforehand on HŽ's website (Hrvatske Željeznice – Croatian Railways).
Price for Zagreb to Split train is 208 Kuna (€28).
Flying from Zagreb to Split
The shortest transfer time is by plane between Zagreb to Split airport. Croatian airline company often has very cheap deals between the two airports. Prices are sometimes on a par with the price of the bus and train, often going from €50.
Flights are very frequent. I've found generally very regular flights between Zagreb airport and Split, especially in summer months.
Total Zagreb to Split flight time is only 35-40 minutes, but you always have to account for traveling to and from airports, and check-in times.
Below you can see some daily flights starting from early one at 06:30 to the late evening at 22:40.
Zagreb, Croatia (ZAG) to Split, Croatia (SPU) By CroatiaAirlines:
| Departure | Arrival | Flight |
| --- | --- | --- |
| 6:30 am | 7:20 am | Croatia 650 |
| 10:40 am | 11:30 am | Croatia 652 |
| 11:05 am | 11:55 am | Croatia 652 |
| 11:40 am | 12:30 pm | Croatia 652 |
| 12:15 am | 12:55 pm | Croatia 654 |
| 12:30 am | 1:00 pm | Croatia 654 |
| 2:00 pm | 1:20 pm | Croatia 654 |
| 2:30 pm | 2:45 pm | Croatia 658 |
| 2:35 pm | 3:20 pm | Croatia 380 |
| 9:10 pm | 10:00 pm | Croatia 658 |
| 10:00 pm | 10:45 pm | Croatia 656 |
| 10:40 pm | 11:25 pm | Croatia 656 |
The price of one way tickets typically goes from €93 to €113.
You should however also consider other costs. If you're staying at a hotel in Zagreb and need taxi ride to the airport, it will set you back another €25 or so. Transfer from Split airport to Split center costs another €15-20 (see prices here).
There aren't that many international flights directly to Split, so Zagreb's Pleso airport (IATA: ZAG) will likely be your transfer point. Back in 2016 Zagreb International Airport was renamed from Pleso and is now called with a ridiculously unpronounceable name Franjo Tuđman. No matter where you're from, I guarantee Croatian politicians are dumber than yours.
Anyway, my suggestion is to use Cheapflights to search for and book flights. You can use the search form here to quickly view available flights on any dates.
JetRadar
enables you to search and compare 1000+ airlines, travel agents and travel sites to get the cheapest flights and best dates. Test it yourself!
Search not displaying correctly? Search directly on JetRadar!
Best way to travel from Zagreb to Split?
I wouldn't say there's any best way to get to Split from Zagreb. It depends on your origin country, number of travelers, and even budget.
If you don't have a personal vehicle and want to arrive in Split as quickly as possible then consider booking a flight. You can find a seat for €100 or less and travel without hassle.
Buses are cheapest and run regularly dozens of times every day. Trains are somewhat slower and twice as expensive as buses.
Having a personal vehicle is definitely the most convenient way to travel as it gives you greater freedom to explore and travel at your own convenience and schedule.
For 4 or 5 travelers you may even want to consider renting a car as travel costs are not significantly higher, but you have greater freedom to explore and travel at your own convenience and schedule.