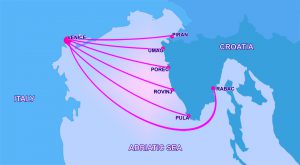 How to get from Venice to Croatia? Many travelers like starting their holiday in Venice and end with a few days along the Croatian coast!
If you are visiting Italy and you don't have enough time to visit much of Croatia, I'm sure you will be glad about to know you can take fast ferries that connect Venice to some most beautiful Istria peninsula towns like Umag, Porec, Rovinj, Pula, Rabac and all the way to Losinj island.
Venice 2023 ferries schedule to Croatia is ready. You can check all schedules and book your ferry crossing from Italy to any available Croatian ferry port.
You can use this search box engine to find live information about Venice (Venezia) ferry port, and ferry destinations to Istria peninsula. It will show you current schedules, timetables and prices for all Venice to Croatia ferry rides.
Check fares, timetable & BOOK your trip to Croatia from Venice:
Choose the starting town (Venice) to Istria towns (Croatia). See the map.
Then choose your return route if you're going to return to Venice.
Select the total number of passengers.
These fast catamaran Venice to Croatia services have been connecting Venice to Istria for several years now. Venice to Croatia ferry routes are being run by two companies, Venezia Lines and Atlas Kompas.
Most of these highly demanded catamaran lines are running from June to September, but occasionally may start operating earlier (from April) and end later (second half of October).
Venezia Lines has a fleet of 3 high speed catamarans equipped with the latest technology of air cushions combining the advanced characteristics of catamarans and hovercrafts. This allows them to achieve higher speeds of up to 40 knots with remarkable comfort levels.
Venice to Croatia ferry connections
Venezia Lines and Atlas Kompas are the two companies with routes from Venice to Croatia, available from June to September. From Venice port you can depart for Pula, Poreč, Rabac, Rovinj, or Umag.
Venice to Pula ferry
Venice to Pula ferry ride lasts just over 3 hours, and there are four weekly sailings available from June to September. Prices are around €124 in June, €145 in July, €108 in August, and €78 in September.
Atlas runs three weekly sailings, and VeneziaLines four. Overall Atlas Kompas is slightly cheaper than Venezia Lines. Pula is called Pola in Italian.
Venice to Poreč ferry
Venice to Porec ferry runs 5 times per week by Atlas Kompas, and every day of the week by Venezia Lines. Trip lasts 3 hours, and is available from April to October by both companies.
Prices range from €64 in October to €156 in July, with Atlas Kompas once again being only slightly less expensive.
Venice to Rabac ferry
Venice to Rabac ferry is only run by Venezia Lines. Trip to Rabac from Venice lasts 4 hours and is available once per week on Thursdays from July to September.
Prices are going from €84 to €95.
Venice to Rovinj ferry
Venice to Rovinj ferries (Rovigno in Italian) are available 3 times per week by Atlas Kompas, and every day by Venezia Lines.
Trip to Rovinj from Venice lasts around 3.5 hours, and are available from April to October from €70 in low season to €150 in high.
Venice to Umag ferry
Venice to Umag is also available by both companies, and each has only one weekly departure. Atlas Kompas runs catamarans from June to September with prices from €70 in these months, and €112 and €202 in July and August respectively.
Venezia Lines can get you to Umag from Venice only in July for €74 and August for €122. Trip duration for both ferry companies is just under three hours.
Where is Venice to Croatia port in Venice?
All Venezia Lines Ferries depart from San Basilio Terminal in Venice. San Basilio Terminal is at the end of Zattere area, approximately 500m from San Sebastiano Church.
San Basilio is within approximately 10 minutes walking distance from bars and restaurants; there is also a supermarket and an ATM.
When on board any Venezia Lines ferry you can expect to find facilities such as spacious and executive style air-conditioned lounges, bars and restaurants along with tax free shopping.
Venice Ferry Port is a busy and popular port providing Southern Europe with an entrance to the Adriatic and Mediterranean Seas. Venice to Croatia ferry Port is situated close to Venice and all its attractions.
Ferries from Venice sail across the Adriatic sea to Pola, Porec, Rabac and Rovigno (Rovinj) on the beautiful Croatian coast with Venezia Lines.
One way/return prices from Venice to Croatia (Istra)
DEPARTURE FROM VENICE:
Period: 19.04 – 30.06 & 01.09 – 04.10
Route:
One Way
Return
Port/Price
Adults
Children
Adults
Children
Porec
€67.00
€42.00
€121.00
€76.50
Rovinj
€67.00
€42.00
€121.00
€76.50
Pula
€69.00
€43.00
€124.00
€78.00
Mali Losinj
€78.00
€47.50
€134.00
€83.00
Period: 01.07 – 31.08
Route:
One Way
Return
Port/Price
Adults
Children
Adults
Children
Porec
€72.00
€44.50
€121.00
€76.50
Rovinj
€72.00
€44.50
€121.00
€76.50
Pula
€74.00
€45.50
€124.00
€78.00
Mali Losinj
€83.00
€50.00
€149.00
€90.50
Note that prices displayed are only informative and may change more often than I'm able to update my article. Check the websites of ferry companies for current prices, or use search forms provided by my partners for accurate and current pricing and timetables.
Day trip family offer!

Venezia Lines is offering a family package applicable for day trip to make your travel trip easy and affordable by letting kids go for free.

2×2 – On every 2 adults paying, two children under the age 13.99 travel completely FREE.
In the months of July and August for every 2 adults paying, one child under the age of 13.99 can travel for FREE.
All ferries to Croatia from Venice are only for foot passengers, so you can't bring any vehicles on them. The only inconvenience of these routes is the fact they connect only northern part of Croatia (Istria peninsula) since they are not going to southern Croatian coast.
You can find more information about both shipping companies operating Venice to Croatia ferries on VeneziaLines' website here, or Atlas Kompas here.
There was once a ferry from Pula to Mali Losinj and Zadar but this year it's still unknown if or when it will start again. To learn how to travel within Croatia read my Croatia's ferry network post!
Venice to Split 8-day cruise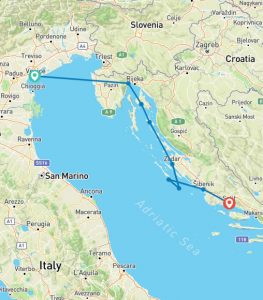 Intrepid Travel runs an 8-day long Venice to Split cruise. This includes everyday stops in several other destinations in Croatia including Opatija, Krk, Rab, Zadar, Kornati National Park, and Sibenik.
This cruise is a wonderful way to travel from Venice to Split while enjoying beautiful sights and exploring some of Croatia's most visited destinations.
You can find more information here.
Venice to Dubrovnik in 15 days
Another cruise by the same operator as above. This 15-day cruise will take you from Venice to many popular destinations in Croatia.
A new town or National Park every day gives you unprecedented sightseeing opportunities along the entire Adriatic coast.
You can learn more about this cruise here.
Find out more:
If you need information on how to get directly to Split see the linked article, it will give you an overview of various ways to get to my country.
Direct connections for Italy to Split ferries are available only from Ancona and Pescara, but there are other Italy to Croatia ferry connections in case you find other ports more convenient to travel from.