Trogir Riviera apartments rentals are the best solution for a pleasant holiday on Trogir Riviera, saving up to 40 % compared to a hotel. It's not a commercial advertising but a fact!
Trogir Riviera is the closest riviera to Split city and only 5 km from Split airport, locally more known as Resnik airport.
The advantage of Trogir Riviera aren't only reasonable accommodation prices, but also its geographic position. Split is only 25 km from Trogir town, while Krka River National Park is an hour away by car (58 km).
Staying in one of Trogir Riviera apartments will be a good opportunity to visit Plitvice National Park. By car it will take you a little more than two hours via E71.
To help you find your accommodation in this area I've put together some information about the area better known as Trogir Riviera.
This area stretches between Kastela and Sibenik county including islands Ciovo and two smaller islands Drvenik Veliki (Great) and Drvenik Mali (small). See the map on the right!
Since the island Ciovo is a kind of annex of the Trogir city, it offers a lot of possibilities for vacation, recreation and swimming, as well as numerous historical monuments.
The Mediterranean vegetation, archipelago with small picturesque little islands, mild climate and most beautiful beaches in hidden bays, will certainly make your stay unforgettable.
How to reach Ciovo island?
It's not a big deal to reach this island. If you are driving, all you have to do is to reach the Trogir where you have to cross the first bridge to get to the old town, and then, after crossing the second bridge (connects the island Ciovo and old town), you are on Ciovo island.
See the second bridge below!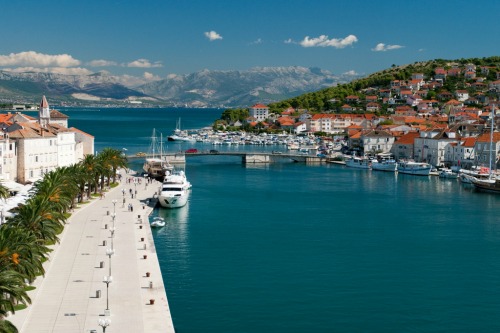 Trogir Riviera Apartments
Beside Trogir apartments, islands like Ciovo, Drvenik Veliki and Mali have a lot to offer. In these idyllic places visitors will find the absolute tranquility with beautiful beach with clear waters and gastronomic delights.
These secluded places will provide all you need for a perfect holiday.
The whole Trogir Riviera offers plenty of accommodation choices from residences, holiday houses, rooms and villas. Some places offer the beach front condos overlooking the sea and some of them are very close to the well known beaches.
According to Wikipedia Ciovo island is located in central Dalmatia, protecting the city of Trogir and Kastela gulf. On its south-east part it is only two km distant from the Marjan, peninsula. Besides the town of Trogir, on the island there are several villages: Arbanija, Okrug Gornji, Okrug Donji and Slatine.
Ciovo is not a big island, it has only 11 square miles (length 15.3 km (9.5 mi), width up to 3.5 km (2.2 mi) with populations of 6071 inhabitants. In spite being a small island, it offer almost two-thirds of Trogir riviera apartments and small hotels.
Find the best hotel accommodation in:
 Trogir and Ciovo villas with spectacular views
If you are looking for villas on Ciovo island surrounded by lush Mediterranean pine trees, few meters from the pebble beach and only 10 km from Split Airport than you have found the right place for spending relaxing and refreshing holidays.
Trogir Riviera budget accommodation
Book Hotel Medena. Prices start from € 33,30 in single room HB!
Hotel Medena 2 stars hotel  is located  along the 2000 meters long seaside promenade connecting Medena Hotel with Seget, an old fishing village. Apartments of hotel Medena are only 4 km away from Trogir, the town of art protected by UNESCO.
June 2022 Offers for Hotel Medena:
Standard Double room with half board + additional bed 2+1 – Price € 47,60 per night.
Superior Double room with half board – additional bed 2+1 – Price € 65,40 per night.