Photo from Ston Wall Marathon, an annual event in Ston town. This unique sports tourism event in Europe will be run partly around the old Walls of Ston, the longest preserved European defensive wall. Launched by a few athletes enthusiasts, this extremely demanding marathon has developed into an exclusive event with runners from around the world.
Image information:
This image is named
Ston wall marathon
and was uploaded to my article here:
Town of Ston – Best Seafood in Croatia
. Please read the full guide for more context about
Ston wall marathon
photo, or find other related photos below.
From my Town of Ston – Best Seafood in Croatia article: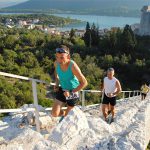 Ston streets Ston Croatia is a small town on Peljesac Peninsula, about 54 km north-west of Dubrovnik. It is about 115 miles from Split on D8 coastal road. If you are driving to Dubrovnik, only 14 miles (21 km) after the Neum Corridor (Croatia and Bosnia crossing), you have to turn right onto D414 (near Zaton Doli), passing the INA gas station. You... Read more »