Stari Grad, Faros (literally means "Old Town") is the oldest town on the Hvar island. It lies on the north side of the Hvar island, at the end of the five miles deep bay, protected to the north by the hills of the Kabal peninsula, and by the high mountain ridge of Hvar to the south.
Don't mistake Stari Grad with Starigrad, which is either a village and a small port on the coast of Velebit channel, or a village near Zadar, or a village near Koprivnica… There's three Starigrad's but only one Stari Grad!
Faros / Stari Grad history
Stari Grad was originally named "Faros" by Greek settlers.
Faros (Greek: ΦAPOΣ) is the oldest settlement on the island and one of the oldest in Croatia founded by Greek settlers from the island of Paros in the Aegean Sea.
In 385 B.C. the Greek authorities have approved the colonization of the distant island of Pharos (name of Hvar island) due to its rich land and strategic importance.
Under the leadership of Commander Okist, a fleet of transport ships have dispatched approximately a hundred families to the island, where they founded settlements and divided the land.
The Romans forced out the Greeks in 219 B.C. After that the town was settled by Slavs and it became the capital of the island until 1278. When the administrative capital of the island was moved to today's Hvar town on the south coast, the old town became simply known as Stari Grad.
How to get there?
Old Town has very good ferries connections with Split, the capital of Dalmatia. The ferry dock is a couple of kilometers out of the town with good bus connections with Hvar town, or Jelsa and Vrboska.
On my getting to Hvar island page you can learn that this two-hour long Split-Stari Grad car ferry crossing is the main link between Split and Hvar island and as such can be quite crowded in the summer period (mid July to mid August).
Check winter and new summer schedules for more information on ferries frequencies and prices!
All international ferries from Italy dock at this port. Unfortunately the famous coastal ferry lines from Rijeka/Dubrovnik is not running any more since 2015. You can view current ferry connections and schedules through our partner below:
Keep in mind these do not include connections ran by our state ferry company Jadrolinija.
What to see?
Old Town's highlight is Tvrdalj, the poet Petar Hektorovic's 16th century fortified castle with fish pond that reflects the poet's love for fish and fishermen life.
His poem 'Fishing and Fisherman's Complaints' (1555) is one of the most important literary texts in the Croatian language of the 16th century.
Another highlight is the old Dominican monastery, founded in 1482, damaged by the Turks and later fortified with a tower.
Local museum is housed in the former Bianchini Palace. Special exhibition shows a reconstruction of an ancient Greek shipwreck, the archaeological collection from the UNESCO Plain, and a 19th-century Captain's room.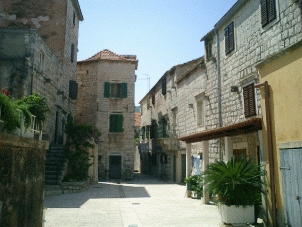 In addition, the Museum houses an art collection and Juraj Plancic Gallery.
I suggest you to take a stroll through the narrow old street to feel the special Dalmatian atmosphere. Visit the small square with the parish church of Sv. Stjepan (St. Stephen)  built in the 17th century. You'll discover that  in its place stood an older church from 9th / 10th the century.
Many others churches (there are more than seven) are worth visiting while wandering around like:
Church of St Rok (sv. Rok).
Church of St Peter (sv. Petar) with Dominican monastery.
Church of St Luke (sv. Lucije).
Church of St Nicholas
Where to eat?
I must say that Faros is not so trendy as a better known Hvar town but it has some very good restaurants.
I recommend two restaurants: Eremitaz and Jurin podrum (Cellar). The first one has unique position.
Get a table outside on one of the quiet small streets, sit back and relax and enjoy a long leisurely lunch.
The food is well prepared, tasty and simple. Try lobster spaghetti and I guarantee you'll be back next year.
I am sure you'll pay much less than in fashionable Hvar town restaurants. Tripadvisor has some more restaurants to recommend according travelers reviews!
Where to stay?
Private apartments are the best solution to stay in Stari Grad. There are not many hotels and private rentals are the best deals.
Below are a couple of hotels in Stari Grad with good reviews!
Hotel Arkada
One hotel I can recommend is Hotel Arkada – right by the sea, 3-minute drive away from Stari Grad's center.
Surrounded by pine woods and Mediterranean plants such as olive trees, rosemary and lavender.
Hotel offers rooms with a balcony and satellite TV. A pick-up from and to the Ferry Port can be organized upon request.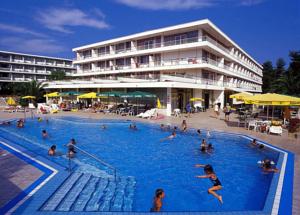 Hotel Lavanda
Featuring an outdoor swimming pool and tennis courts, Hotel Lavanda is set right at the beach promenade, just 50 meters from the sea.
Surrounded by pine trees and only a five minute boat ride from town center. It offers rooms with satellite TV and a balcony.
Recommended hostel:
Hostel Sunce (Sunce means Sun) was open in 2010. It is located in the historic part of the town.
It is only 4 km from the ferry harbor and the beach is only 10 minutes walking distance. Close to the hostel there is an ambulance, post office and the coach station.
Address: Don Mihovila Pavlinovica 2, 21 460 Stari Grad. Phone: (0)21 765 402.
Hostel is a cheap accommodation with one single, seven double rooms and six triples. Prices start from 14 € for overnight to 25 € full board.
Stari Grad Plain UNESCO site
The fertile plain in town's background is mainly planted by grapes and olives based on original agricultural activity since Greek times to the present.
The landscape features ancient stone walls and trims, or small stone shelters, are the testimony to the ancient geometrical system of land division used by the ancient Greeks,  which has remained virtually intact over 24 centuries.
This unique vast plain has been included in the UNESCO list of World and Cultural Heritage back in 2008.
Stari Grad Beaches
Arkada and Lanterna are the two most well known Stari Grad beaches. Take a look at our Hvar island beaches article for a more comprehensive list of the best places to dip your toes on this island.