Split Dalmatia County is a central Dalmatian region with Split Croatia as a capital. Dalmatia consists of three areas:
Northern Dalmatia with Zadar as its capital.
Central Dalmatia with Split
Southern Dalmatia with Dubrovnik
If you do not know where the Split County is, this is your chance to become acquainted with the basic geographic data and maps. Read more about it on Wikipedia!
Are you a naturist lover looking for the most popular Central Dalmatia nudist beaches? If so, visit this page!
Central Dalmatia County is a mixture of Roman ruins, stunning beaches, old fisherman villages, untouched islands and plenty more that makes this Croatian region the most visited by tourists from all over the world.
Its rich historical environments include early Roman ruins (Salona, today Solin), Roman Diocletian's palace in Split capital, Trogir, the UNESCO World Heritage, Hvar with rich Renaissance architecture, make this central Dalmatian County an ideal combination of beach holidays and historical exploration.
Split Dalmatia County Highlights
Wandering through old Diocletian's palace streets.
Strolling around the Roman ruins of Salona.
Taking a day tour to swim or dive in the Blue Cave of Vis (Bisevo) island
Jump to Brac's first class sunbathing Zlatni Rat pebble beach in Bol town.
Join to a day tour to Trogir's Cathedral to admire its masterpiece sculpture and church portal.
Visit Makarska Riviera beaches.
Geographical features
Split region is the largest Croatian county with the total area of 14106.40 km2. The whole area including islands makes 8% of Croatian Republic surface and 30.8% of total sea surface.
Most of the area belongs to hinterland (59.88 %), while only (19 %) of the surface to the Central Dalmatian islands.
Geography is located in the central part of the Adriatic coast. It stretches from Vrlika in the north to the furthest Croatian island of Palagruza in the south and up to Vrgorac to the east.
Split Dalmatia County borders
To the north with Republic of Bosnia and Herzegovina.
To west with Sibenik county
To the south-east with Dubrovnik County.
In the south extends to the limit of the territorial sea of the Republic of Croatia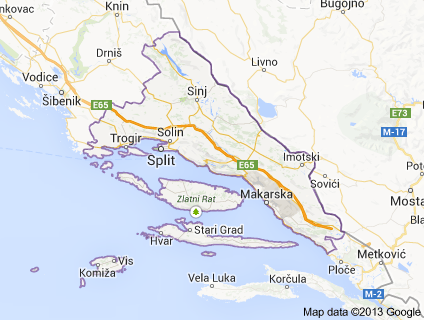 Exploring the above maps you can identify clearly the county borders with principal towns and islands.
The county is divided into three geographic subunits:
Hinterland
Coastal line
Islands
Hinterland, the continental part of the county, is interlaced by mountains that run parallel to the coast. The area is sparsely populated and economically relatively poor.
Coastal line makes a narrow strip along the coast between the mountains and the sea. This area is highly urbanized and economically developed in relation to the hinterland. This coastal line is divided in three tourist zones:
Split county consists of 74 islands and 57 islets and reefs. The biggest and more populated islands are Ciovo, Solta, Brac, Hvar and Vis. Find out how to reach these islands from Split.
There are also six small inhabited islands like Veli Drvenik, Mali Drvenik, St. Clement, Scedro, Bisevo, and St Andrew.
Split Dalmatia County Climate features
Weather in Split County is typical Mediterranean climate whose basic features include hot and dry summers with mild and wet winters.
Planning a vacation is always fun, but weather conditions will be important to look at when to go to Split Croatia. Read more about weather in Split here!
Split Dalmatia County cities and towns
According to 2011 population, households and dwellings census in the Republic of Croatia below are the main towns with total number of inhabitants:
| | | |
| --- | --- | --- |
| Cities and Towns | Total listed entities | Total population |
| Hvar | 4.341 | 4.239 |
| Imotski | 11.014 | 10.902 |
| Kaštela | 39.726 | 38.474 |
| Komiža | 1.548 | 1.509 |
| Makarska | 14.205 | 13.984 |
| Omiš | 15.279 | 14.872 |
| Sinj | 25.551 | 24.832 |
| Solin | 24.282 | 23.985 |
| Split | 183.796 | 178.192 |
| Stari Grad | 2.763 | 2.686 |
| Supetar | 4.223 | 4.096 |
| Trilj | 9.873 | 9.417 |
| Trogir | 13.709 | 13.260 |
| Vis | 1.956 | 1.920 |
| Vrgorac | 7.628 | 6.501 |
| Vrlika | 2.382 | 2.159 |
The best of Split Dalmatia County
Split Dalmatia County is a region with many places to visit, activities to enjoy, beautiful islands, tranquil harbors, mountains and castles, foodie's paradise and treasures such as Diocletian Palace in Split and the medieval Trogir (both declared UNESCO World Heritage Sites).
Diocletian palace – The Split Croatia ancient city heart burning with life, day and night.
Medieval city of Trogir with a taste of Venice.
Biokovo Mountain immaculate paradise for climbing and hiking lovers with magnificent views of the Dalmatian islands.
Hvar town, the top party place with charm and the lively waterfront bars and a group of 20 islets and reefs (Pakleni islands).
Zlatni Rat (Golden Cape) in Bol, island Brac, the most charming pebble beach with unique shape, like a white tongue stretched into the sea changing shapes and position, depending on the wind.
Makarska riviera with fine pebble beaches hidden under the pleasant shade of century old pine trees. It is a family with children friendly place.
Vis island, the most remote island, hidden beaches paradise and heaven for fish foodies with some first class restaurant. Go there before August, when an invasion of tourists from Italy begins!
Bisevo island, with spectacular Blue Cave. Visit this cave between 11 and 12 o'clock in the morning, when the sun's rays pass through an underwater opening creating extraordinary reflections of blue light, almost supernatural. Only from May to October!
Vis island is the most remote but also the most mysterious island in this part of Croatia. From 1950 to 1989 it was a military base, closed for visitors. Today Vis is a "must visit" island.
Split region hosts the most popular tourist places in Croatia with well-developed infrastructure and connections, tons of sightseeing spots, and hundreds of years of tradition. No matter where you find yourself in Croatia, make sure you put a few pins on the map in the Split region. I know you won't regret it!