I've seen an increasing amount of questions asking whether Croatia is a safe country to visit. Many popular tourist destinations like Turkey, Greece, France or Egypt just to name a few are undergoing various political or financial troubles, and a lot of travelers are concerned about their safety in these countries.
While Croatia certainly has its share of political and financial troubles, it also has a certain level of security that many other countries will never have.
With the majority of Europe succumbing to an increasing amount of shootings, terrorist threats, religious extremism, freedom of rights violations and other woes which make you think twice about visiting, Croatia rarely made any headlines.
Is Croatia safe to visit?
We certainly have our issues, but in my personal opinion Croatia is possibly the safest European destination you can visit. And it's not because we have cameras or armed officers at every corner (we don't, by the way), or because we're too insignificant to get any press coverage — negative things media reports about are usually limited to our corrupt politicians and conservative views.
I'll go over some topics below and try to give you my views on some of the frequently asked questions I get, and other things I believe you may want to know before your trip to Croatia. These are mostly my personal opinions, but they should shed some light on why I believe Croatia is safe to visit.
Talking about some of these things may not be appropriate for a tourist blog trying to show you the beauty of my country, but I hope you'll at least appreciate my honesty.
Is there terrorism in Croatia?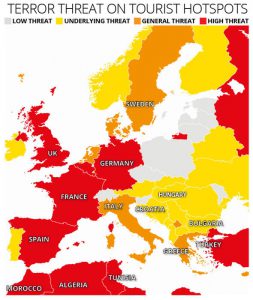 There is no terrorism in Croatia. We never had any significant incident which would be characterized as a terrorist attack, whether it's religion-based or not.
While there is of course an ongoing terror threat across Europe, Croatia is generally too insignificant on the global political scale to be in any kind of constant alert.
Caution is always advised and I'm sure there's always the possibility of some kind of terrorist attacks, but so far we're lucky enough to stay completely off the radar.
Though some media (see picture) are putting us into the "Low level" of terrorist threats, in my opinion "Lowest or no threat" would likely be more appropriate, but I'm certainly no security expert.
It's also worth noting that unlike majority of European countries, we have no confirmed ISIS fighters.
Our biggest terrors are restaurants and bars in tourist places whose prices can blow your mind.
Religion and conservative views
With over 90% of our population declaring themselves Catholic (according to 2011 census; source), religious extremism is almost non-existent. Our biggest "religious-extremism" related news in the past few years was a dumb old bad who started a referendum against gay marriages.
Sadly she succeeded, but only in making sure it can't officially be called "marriage". Other than that, gay couples have the same opportunities and rights as others.
That being said, and being a predominantly Christian country, you can unfortunately expect many Croats to share similar conservative views. That doesn't in any way imply that you shouldn't visit my country if you're gay, it just means you might need to prepare for a few weird looks or remarks if you're displaying affection in public.
I'm certainly not sharing and even strongly disagree with such conservative views, but I'd still recommend keeping your lifestyle choices private, especially in Split, whose people aren't known for being open-minded.
Crime and violence
Typically limited to incidents on football matches or domestic and drunken violence, Croatia isn't a country where you need to be afraid. Many of our people are too busy trying to survive on low salaries to engage in shootings or mindless violence.
We don't have gangs or a mafia operating on the streets, we don't have terrorist attacks or bombings. Thankfully neither of these is something any Croat or a tourist needs to worry about, and hopefully it will remain so for a long time.
Feel free to roam the streets at night if you like. Locals won't give you any trouble, and if some drunk kids are making dumb remarks just smile and walk away. Or have a drink with them. Stay happy and polite, and it's likely to be reciprocated.
Keep your valuables safe
Sadly I'd be lying if I said we don't have crime. It's not widespread nor likely to happen to you, but leaving your car unlocked with valuables inside or leaving your things unattended on a beach is just inviting someone to take advantage of your oversight.
Don't assume other tourists would never steal anything either, as it's just as likely. Keep your wallet, phone or iPad with you or in your sights at all times. A bit of common sense can ensure your holiday will go without any frustration.
I'm not entirely unbiased, but I'll go ahead and say that you can usually trust locals, especially in smaller places. Thieving on beaches is usually done as a crime of opportunity by other tourists, or by "visitors" from bordering countries to the east.
The fact is 99,9% of tourists will never experience theft, but that doesn't mean you should throw common sense out the window and be reckless with your possessions.
Prices
As a tourist, your biggest worry should be our greed. Another fact I'm not proud to write about is that Croatian entrepreneurs can often be douche bags.
Outrageous prices at certain restaurants or bars is not uncommon, especially when located on high-trafficked seafronts or next to popular attractions. Some owners also keep two price lists: one with reasonable prices for locals, and the other for tourists where prices are often tripled.
Bad business practice which certainly leaves a sour taste of our country to anyone who notices it, but unfortunately it's perfectly legal.
Make sure you check the prices of caffe bars and restaurants before you order. If you're uncomfortable with their pricing, simply leave the establishment and check the next one. Nobody will blame you, and greedy business owners don't deserve your money anyway.
That being said keep in mind that if you want to chill with your drink in the very center of old Dubrovnik be prepared to pay even 4-5 euros for a simple coffee. Barely a hundred meters away you can easily find bars with coffee for less than 1.5 €.
Want ice cream on a beach? 1€ if you're speaking Croatian, 2€ if you're not. Sad but true, and learning a few
simple words or phrases
of Croatian language has plenty of benefits!
Scams
Not something you should expect in Croatia. You will almost always get what you paid for, just be sure to understand what you're paying for beforehand. If you're negotiating for a private apartment, ask the owner to show it before you agree to anything. Feel free to ask them to lower the price if you want, but don't get mad if they refuse.
Anyone who has apartments for rent is likely making more than enough money and doesn't have to resort to scamming tourists in any way. They may exaggerate certain things a bit, but it's highly unlikely you'll feel cheated as long as you have reasonable expectations.
When booking private accommodation I'd advise you to use online booking sites, not for safety but because you can often get deals with lowered prices. For cheapest accommodation you can search for hostels on Hostelworld, or private apartments on Agoda or Booking.com, just to name a few.
If the owner is making you pay extra for wifi access, consider the alternatives.
Drugs
If you don't use drugs then this topic really won't concern you at all and you'll never even notice it happening or give it a second thought.
First things first, you should know using, selling, or buying drugs in Croatia is not legal, and that also includes marijuana. If you need drugs to have a good time that's your own choice (whether I disagree with it or not), but you should be prepared to face the consequences.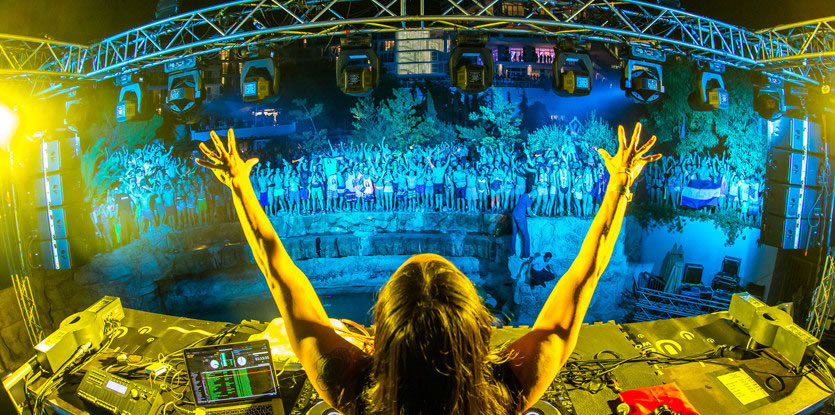 If our police catches you (as a tourist) in possession of illegal substances you can usually expect a €100 – €300 fine (don't hold me to that exact amount though). Best advice I can give you is to at least try and carry a small amount "for personal use", as any larger amount which could be considered "for resale" may get you into more trouble.
Simply pay the fine and move on, since trying to fight it will only get you more frustration and waste more of your time, and you'll end up paying anyway. Trust me when I say a couple hundred euros is worth for avoiding our bureaucracy.
I'm saddened by the fact that Split is considered Croatia's unofficial drug capital, where drug (ab)use is unfortunately overly common. This fact is further evident in July when about 150,000 additional tourists arrive within a week to visit Ultra Europe festival in Split, many of which are looking to score.
In 2016 (July 15th – 18th) during Ultra Europe there were 296 people taken into custody by the police, 189 of which were foreign citizens. Total fines issued equaled €78,636, which averages to about €265 per person.
Police also confiscated 1100 pills of ecstasy, 73 pills and 92 grams of MDMA, 13 pills and 80 grams of amphetamines, 253 grams of marijuana, 34 grams of cocaine, 12 grams of hashish, and 1.7 grams of ketamine.
8 people had criminal charges brought against them for producing and distributing drugs.
If you're buying drugs in Split or anywhere else for that matter make sure you do it out of sight, and try to consume it in the privacy of your own accommodation rather than carrying it around. If that's your lifestyle choice you can be as high as you like, just make sure you're never using it in public.
If using drugs is your choice of vacation, consider visiting Zrce beach on Pag island where it's much more commonplace throughout the summer. You can easily book a tour from Split and spend an entire day and night partying there.
Day Trip to Zrce beach from Split
Take a trip to Zrce beach, Croatia's top party destination. Hop on your Mercedes minivan with your group in Split and take a 4-hour drive to Pag island's Zrce beach. Return next day at 5 AM, giving you an opportunity for a wild night out and to catch some Z's on the way back.
At the very least there's a much higher number of like-minded individuals in Zrce, so your chances of getting caught are significantly lower.
And don't forget, alcohol is perfectly legal, and if you're 18 or older you can freely purchase as much as you like.
Accidents
During our high season period in July and August, not a day goes by without a tourist involved in some kind of an accident. Hikers getting lost on mountains or inexperienced sailors caught in our treacherous bura wind are among the most common, right after car accidents.
With tens of thousands of cars arriving from all parts of the Europe every day, there's rarely a day without at least one car accident. Sadly it also sometimes ends fatally.
Best advice I can give you is something we often say in our country, when traveling the only thing you need to be armed with is patience. Driving for hours in our summer heat and dealing with traffic jams (often caused by accidents) can be a frustrating experience, but the most important thing is for you and your family to arrive safely.
Make a stop every couple of hours on gas stations and take a breather. Driving while frustrated or tired is never a good idea, and our sea isn't going anywhere.
Need help?
Police, ambulance or mountain rescue services can be reached by calling "112".
Tourists getting lost while hiking in the mountains is now almost a daily occurrence as well. Our rescue services are kept busy 24/7 and doing a remarkable job despite all odds, and you can always count on them for extreme professionalism and experience, but that doesn't mean you can throw caution to the wind.
When hiking bring plenty of water, some food, proper shoes, preferably your phone with GPS, and warm clothes just in case you get caught in a storm or strong winds. Storms happen even in summer, and temperatures can drop drastically at night. Most importantly you need to be sure you know what you're doing and where you're going, especially if you're hiking alone!
Other than the above, boating accidents, heart attacks, or diving accidents are also fairly frequent. If you're taking part in some adrenaline adventures like diving or mountain climbing make sure you're either physically fit or experienced, and preferably both. If you're not then book a tour with a professional guide to ensure things go smoothly.
Arguing with Croats
We are stubborn and prideful, and arguing with a Croat can never end well. I can assure you it will be a frustrating experience for both sides, and if in any way possible try to avoid it.
This has nothing to do with safety tips of course, I just thought it might be helpful to include it regardless.
Whatever nuance or issue you're having, whether it's an expensive lunch or a clogged toilet, just do it politely and with a smile. Don't be arrogant or hold yourself above us. You may be making more money than we do, you may drive better cars or live in a fancier place, but that doesn't give you the right to look down on us.
It honestly sounds a bit stupid when I write it down, but there's countless tourists visiting every year expecting to be treated as royalty simply because they decided to spend money in our country. Our kindness is bought with respect, not money.
If you want to be pampered then book an all-inclusive resort, but don't expect private accommodation owners to cater to your every whim.
As long as you're our guest and treating us with respect and some common courtesy, we'll reciprocate in the same way.
Croatia, Safest Vacation in Europe
There's really not a country in Europe that I feel is safer to visit than Croatia. Despite our troubles, some of which I described above, I still consider my country a safe place to live in or visit, and since we're too insignificant to meddle in other countries politics chances are we'll stay a safe destination for a while longer.
All of this is of course my personal opinion based on, well, living here, but if you need more official info then you can verify some of it on U.S. Department of State website:
Global Peace Index ranked Croatia as the 27th safest country in the world in their 2019 report, out of 163 countries. United States and UK ranked our country to the lowest level of travel concerns, meaning travelers should only use regular caution.
Croatia is the kind of place where you can take a stroll at midnight knowing you're perfectly safe. You can let your kids go to the beach or out at night knowing they'll be safe, a truly family-friendly destination whose people will show you as much kindness and respect as you give them.
Takeaways:
Stay calm and drive safely on our highways.
Don't do anything unnecessarily reckless.
Learn to say "Dobar dan" (means good day, greeting like "hello").
Avoid arguing with stubborn Croats, and don't be arrogant.
And be patient and happy.
Some common sense and a few tips above are honestly all you need for a pleasant vacation in Croatia, and I know you'll have a great time.