I am planning to visit Croatia with my family next February going to Split, Zadar, Plitvice and Zagreb, but I do not know if it is convenient because of the cold and the climate.
I think that we will rent a car, but I am not sure to do so because of the snow in the roads.
I would appreciate if you may give some advises about the travel.
By Mariano from Argentina
Answer:
Snow is actually not a particularly big problem even if you're driving. Since our climate is getting warmer by the year it's also not uncommon not to have any snow in February in any of your destinations, and it's been years since we actually had any serious amount of snowfall (50cm or more) at any time of the year.
While the snow inevitably does cause a bit of traffic chaos (especially in Zagreb), our services are typically very quick to clear the roads and driving isn't a problem for anyone who's at least a little bit careful. Main highways from Zagreb to Plitvice and further south are also always cleared on time and you can typically still drive 100 km/h without any problems. Normally it takes about 2 hours to reach Plitvice from Zagreb, and another 30 minutes if conditions aren't very good shouldn't be too big of a deal. There's also a chance you'll encounter some snow from Plitvice to (or in) Zadar, but it's unlikely to happen in Split.
Plitvice is actually very beautiful and tranquil when covered in snow, so you may end up hoping there's at least a little bit of it. I would recommend traveling early in the day though, as during the winter nightfall comes earlier (even at 5PM or so, but you should have good visibility until 6PM in February), and driving in the night, especially if there's snow, is less safe.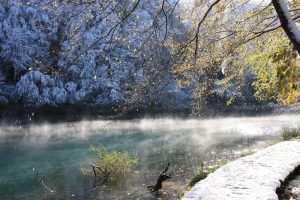 The temperature is not likely to fall below zero during the day even in Zagreb, but still make sure you bring appropriate clothes. Though it's warmer in Split and Zadar, the cold winds can get uncomfortable if you're not dressed warm.
Anyway you may not even encounter any snow, but in case you do simply driving a bit slower and more carefully will be enough. There's virtually no chance you'll get "stuck" anywhere in the snow as long as you're traveling on highways. Sorry if the answer is too long, but I hope it helped at least a bit.
I also hope you and your family will have a great time on your trip!
---
More info: