In case you are planning a visit Plitvice Lakes from Split, here are some suggestions how to spend a day or two in Croatia's most famous national park.
Why should you visit Plitvice Lakes? Here are some basic information about this natural beauty.
These lakes are among the most beautiful sights in Europe and part of the UNESCO World Heritage.
The Plitvice Lakes National Park consists of 16 lakes all connected with numerous waterfalls. The park is subdivided in two sections, Upper lakes (12 lakes) and Lower lakes (4 lakes), all surrounded by dense forests.
It is easy to explore the entire park on foot, following the numerous trails and lanes, interlaced by wooden bridges. In case you prefer guided tours, you can explore the National Park by small tourist train or boat, available during the whole year.
IMPORTANT: Since 2019 you must reserve your entry ticket to Plitvice Lakes at least 48 hours in advance. Find out why and how.
If it's true that images speak more than a thousand words than watch this virtual tour of Plitvice Lakes!
Discover beautiful Plitvice Lakes
Spend your day in pristine nature of Plitvice Lakes, Croatia's most fascinating National Park. See a grand collection of waterfalls, gallery of lakes, forest and diversity of animal life, and do NOT forget to bring your camera!
Getting To Plitvice Lakes From Split
Traveling from Split to Plitvice is easy. One way trip from Split to Plitvice by car will take 2.5 hours on the highway. You can travel with your personal vehicle, or find local bus lines or book transport on organized day trips available from Split.
On the map below you can see the exact location of the Plitvice Lakes. National Park is located somewhere in the middle between Zagreb and Split. Distance from Zagreb to Plitvice is 140 km, and Split is 219 km from the Plitvice Lakes.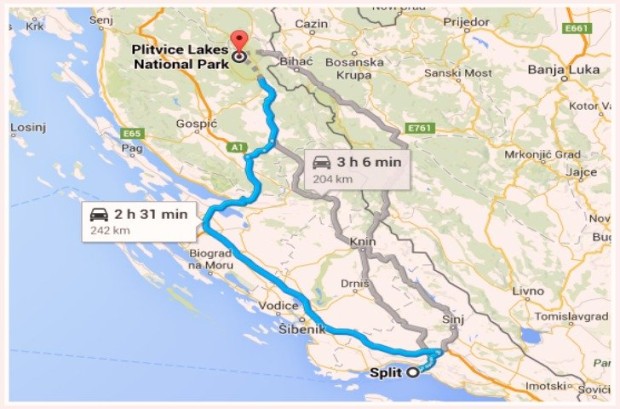 There are four ways to visit Plitvice National Park from Split:
Travel to Plitvice by car
Whether traveling with your own car or if you rent one, it will take you on average from 2:30 to 3 hours. This difference in time depends on your route.
Looking at the map, the faster route is via E71 and A1. This highway route has more traffic but it's more recommended than traveling via Knin D1. This second route is shorter, but less advisable in my opinion.
Traveling by car is the only way to visit Plitvice Lakes with enough time left to freely explore as much as you like, and preferably grab some tasty local "janjetina". You should depart early in the morning to have enough time to explore the park.
By train
There is no direct train from Split to Plitvice Lakes.
Taking a train would still require bus transfers, and I wouldn't recommend dealing with this for any traveler, no matter how patient.
By bus
Bus is often the best and cheapest way to visit Plitvice Lakes on your own. But it may be hard to make a day trip from Split to the Plitvice Lakes using public transport – it's simply too far to make a round trip in one day.
All buses are leaving from the main bus station, located in Split harbor, next to train station. There is a large number of bus companies running this connection. Bus schedules are always available at the bus station (or online). Purchase the bus tickets directly at the departure station.
For schedules and prices, check the Split bus station website.
Day tours
Day trips are convenient and easy to book online and in advance. Price per person is typically around €80, and includes all transport costs, your personal guide, and possibly other features depending on tour.
Excursions are run daily by multiple companies, but their offers are often the same.
Split to Plitvice day tour – see details »
If you don't have your own vehicle or consider car rental too expensive, you can easily book your day tour to Plitvice from Split or almost any town in Dalmatia.
Plitvice Lakes prices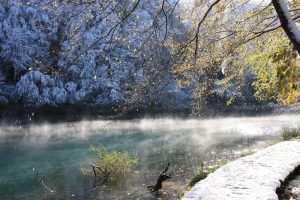 You can view full price list for Plitvice Lakes on the official website here.
Prices depend on the period you're visiting in, going from 55 Kuna to 180kn for adults (€7.5 to €25), or 35kn to 80kn (€5 to €10) for children. Prices are highest in July and August, peak of our tourist season.
Unlike much of the country, Plitvice is a fantastic place to visit during the whole year. Waterfalls are perhaps even more beautiful in winter. There's so few tourists coming in this period, and frozen waterfalls are equally impressive.
In 2018 prices will be increased from 55-250kn for adults, and 35-110 for children. More on this below!
Plitvice UNESCO Heritage
Plitvice Lakes has been a part of Unesco Heritage list since 1979. During high season it is visited by upwards of 15,000 people every day. In 2017 the Lakes have seen a 40% increase in visitors, and are expected to reach 2 million by the end of the year.
The park is overcrowded and it takes its toll. It's a bastion of natural beauty, and Plitvice management is looking to keep it that way. Increase of prices is mainly due to their attempt to reduce the number of visitors.
Since 2019 Plitvice implemented booking tickets online so they can better manage the number of daily visitors. Tickets are still be purchasable on site, but only if the park isn't overcrowded that day. Make sure to read our How to Visit Plitvice in 2019 guide for more information on how to reserve your entry tickets!
As a result of its popularity, Plitvice National Park and nearby areas are under additional stress these past few years due to rapid construction of hotels, apartments and other facilities. All of this has also prompted UNESCO to consider removing Plitvice from their World Heritage List.
Final thoughts
Plitvice is almost a must-visit on your trip to Croatia. It's our more recognizable and most valuable natural resource, and despite massive popularity and business interests it still remains an incredibly preserved natural slice of heaven.
Plitvice Lakes are easy to visit. If you're traveling to Croatia by car it's just a short detour on your way to or from almost any Dalmatian destination. And in case you don't have access to your own transportation, simply book a day trip to visit it. It's worth visiting!