In my family this Dalmatian meal has always been one of the preferred Christmas lunch meals.  This traditional Dalmatian recipe is taken from my mother's old cooking book from 1959.
The writer is Dika Marjanivic Radica titled 'Vodič kroz Dalmatinsku kuhinju' – Dalmatian Cuisine Guide. It is one of the most important book about local Dalmatian cooking. The first edition was published in 1939 in Split.
Unfortunately this book has never been published in English language but it presents the best collection of Dalmatian cooking ever published.
The fact is that every Dalmatian family that keeps up the tradition has its own recipe. How many chefs, so many different recipes and everyone claims his own as the best one.
Every Dalmatian speaks of this traditional meal with an even greater passion than about Hajduk football team.
Ingredients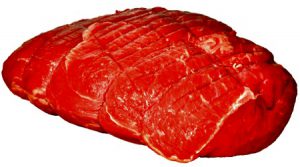 For this meal you will only need one type of meat — a meat block of beef thigh (the best is beef silverside). It is known as round steak and it lacks fat and marbling, so it requires slow, moist cooking methods in order to tenderize the meat.
Important note: The piece of meet has to be always in one block. It will be cut into slices only at the end of the preparation.
Ingredients for 4 people:
750 gram (1.65 pound) of beef (one block of meat)
100 gram (0.22 pound) of dry bacon
wine vinegar (I use only red wine vinegar)
two large red onions
½  glass of prosecco (sweet wine)
4 dry prune or as alternative you can use dry figs.
nutmeg
cloves (5 to 6)
bread crumbs
5 cloves of garlic
olive oil
bouillon or hot water – I use famous Vegeta Croatian soup tin
tomato concentrate
ground pepper
Important note: Instead of Prosecco (sweet wine) you can use the same quantity of good red wine, sweeten with a spoon of sugar.
Preparation
The preparation process is divided in three phases as pasticada can not be prepared in a day.
The first phase:
Take the whole block of meat and with the pointed knife make several holes up to 2-4 cm deep in different parts. You will need to push in separate holes some longish sliced pieces of garlic and bacon. After that tuck in some cloves in four or five places.
That way prepared meat has to be left in a large pot completely soaked over the night into the red wine vinegar. It should stay at least 24 hours, the more the best but not over 36 hours.
Important note: In the above procedure this vinegar after that is no longer used!
The second phase:
The next day, prepare separately one liter of bouillon or Podravka Vegeta Soup that you will need. Taking the meat of the vinegar prepare a high pan adding a half finger of olive and roast the entire block of meet slowly from all sides.
If the meat remains without the juice and starts catching to the bottom of the pan, add small quantity of bouillon (soup) and keep on roasting.
When the meat takes brown color from all sides, take it out for the moment, and in the same pot add minced onion, 2 to 3 prune (also dry figs will do), a bit of grated nutmeg, pepper, salt and prosecco (if not red wine), in which a big spoon of tomato concentrate is dissolved. I usually add one or two finely chopped carrots. (it's optional)
Inside this mixture add the block of meat and add a sufficient quantity of bouillon (soup) to cover the meat. It is important that the size of the pot must be as close to the size of the meat block as possible, in order not to add too much liquid and to keep pasticada sauce as dense as possible.
Meat is then cooked on light flame for about 2-3 hours, until it is almost completely cooked. You can use a pressure cooker that will reduce cooking time to little more than an hour.

I recommend you to try Vegeta, every cook's best friend (whether they yet know it or not)! This world-renowned seasoning can be used to enrich nearly any meal you can think of (including, of course, pasticada).

You can buy it in literally any store in Croatia so feel free to stock up during your visit. Alternatively, you can order it through Amazon with worldwide shipping.

Vegeta is an original Croatian made product made by company Podravka, and can even make a wonderful gift for a foodie friend.
The third and final phase:
The meat is taken out and the sauce is run through a strainer. After the meat is cut into 1 cm thick slices, it is returned back in the sauce. Altogether is then cooked for about 1/2 hour, until the meat becomes very soft.
Important note: The pasticada sauce has to be dense and dark brown. If it is not dense and dark enough, fine sieved bread crumbs are separately roasted on the oil until they grow dark brown. A large spoon of tomato concentrate is added, altogether has to be fried and added to the sauce at least 1/2 hour before the end.
A side dish
Pasticada  is served with potato gnocchi or pasta with Parmesan cheese. It goes always with a good red wine.