Colorful lakes of Imotski and the World's most unusual football pitch! Read more about it!
Image information:
This image is named
Blue Lake in Imotski
and was uploaded to my article here:
Makarska Riviera – Best Dalmatian Beaches
. Please read the full guide for more context about
Blue Lake in Imotski
photo, or find other related photos below.
From my Makarska Riviera – Best Dalmatian Beaches article: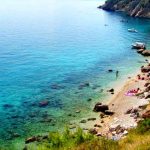 Where is Makarska Riviera? Heading south from Split driving along the most scenic road D8, you'll meet a straight stretch of coastline starting from Brela village. From there starts 38 miles long narrow strip of Adriatic Sea naturally protected by majestic Biokovo Mountain slopes. Biokovo view Biokovo mountain protects it from the cold continental climate and is responsible for its rich Mediterranean vegetation,... Read more »