This page lists local ferry timetables which are available every summer season from Split harbor to the Central Dalmatian islands ran by Jadrolinija.
Jadrolinija is a state ferry company with the highest number of local connections. It's your best bet for finding a ferry connection between destinations in Croatia and will be of a great help for travelers planning vacations.
Split harbor is the main ferry hub to central Dalmatian islands with frequent daily connections to Hvar, Brac, Vis and Solta islands as well as Korcula island that makes part of South Dalmatia county. Click on Split port terminals to find out principal ferry departure piers. Don't miss also fast catamaran lines to Central Dalmatian islands!
The map below shows car ferries, catamaran and ship connections with Split County islands that belong to Central Dalmatian region.
There are two main types of ferry transportation from Split port:
Ferries for both cars and passengers
Catamarans (fast ships) carrying only passengers
Ship connections from Split to Trogir
Car ferry schedule from Split to Stari Grad (Hvar island)
If you are traveling to the island of Hvar than you have to plan to take a boat trip. The most frequent ferry service to the island of Hvar is a line 635 to Stari Grad.
This small ferry port is also connected in high season with international ferry service from Ancona (Italy). Check ferry service Ancona-Stari Grad and Stari Grad – Ancona. There are two companies that hold this line, Jadrolinija (Croatian state company) and Blue Line (Italian company).
You can use the following widget to find international ferry connections to Croatia:
Click on ferry Ancona – Stari Grad map!
Split – Stari Grad low season schedule – Line 635
You can simply download this timetable and save it as pdf.file or print it!
Split – Stari Grad high season schedule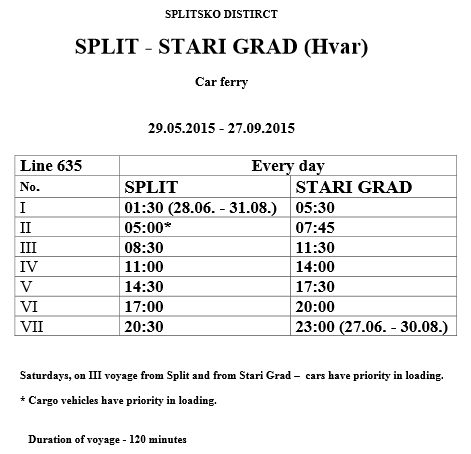 Click to download this summer schedule and save it!
Split – Stari Grad ferry prices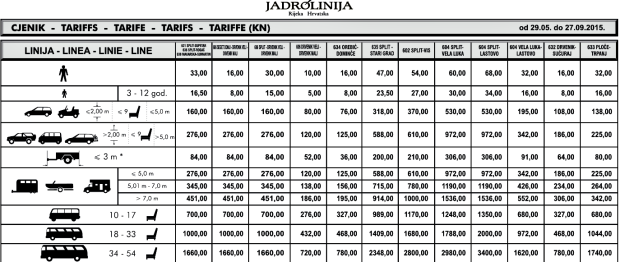 Local ferry schedule from Split to Supetar (Brac island)
Do you know that the number of cars for Brac makes up 45 percent of the total traffic of vehicles that pass through the Split ferry port.  If you are one of them below you'll find the timetable from Split to Supetar (Brac island).
Split – Supetar (Brac island) low season timetable – Line 631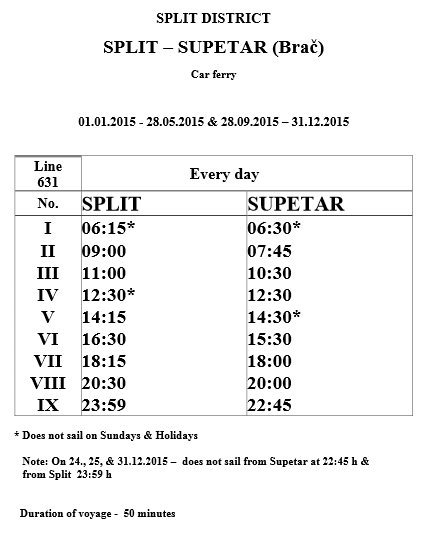 Click to download this ferry schedule and save it! You will need Adobe reader!
Split – Supetar (Brac island) high season schedule -Line 631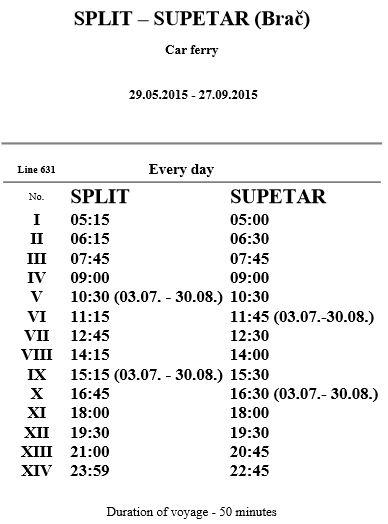 Grab your free copy and download summer Supetar local ferry timetable here!
Split Vis Split local ferry schedule
Split – Vis island low and high season schedule Line 602
For your convenience here you can download winter and autumn Vis to Split and high season timetable, both in pdf format.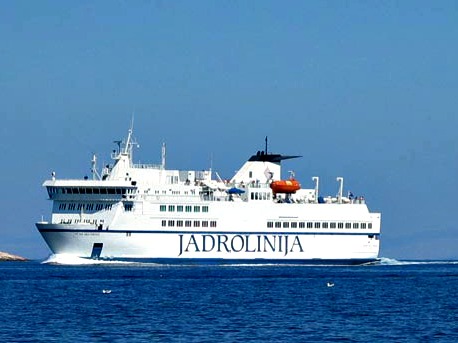 Other ferry companies
Most notable and reliable among other passenger ferry companies is Krilo. They operate dozens of connections between various ports and destinations in Croatia. Many of these connections are not available via Jadrolinija.
With Krilo you can book tickets in advance online here and find available ferries and schedules easily. Some of their catamarans (passenger-only ferries) connect Split with Hvar, Mljet island, Makarska, Dubrovnik, Brac island, and more.