Konavle valley is a perfect alternative if you want to avoid the summer crowds in Dubrovnik and to discover Dubrovnik's golden valley countryside, as it's often called this area.
This southernmost region (see the map) extends from Cavtat to the Montenegro border in the south, while in the north borders with Bosnia and Herzegovina.
It is a small region with a distinctive nature, rocky coast from Cavtat to the south, mountains on the north and green valley in between, interlaced with river Ljuta waterfalls and two smaller rivers Kopacica i Konavocica.
This area is called "The Golden Valley" of Dubrovnik as the most fertile ground, close to Dubrovnik town. For centuries Konavle has been the main Dubrovnik Republic granary with the system of mills on the river Ljuta.
Konavle is the land of waterfalls and watermills with small canals throughout the region. Probably its name derives from the Latin word canalis indicating water supply channel.
Konavle region is about 15-20 minutes distant from Dubrovnik Old Town and it can be reached by bus or a car. Konavle has no hotels and probably a very few houses with private accommodation. The most hotels are in Cavtat, the only tourist resort in the valley.
It is a little area with small number of residents but it is one of the most attractive and most visited among Dubrovnik romantic secrets. The most important places in this regions are Cavtat, Cilipi, Popovici, Ljuta, Gruda and Molunat.
A Day Out In Konavle Valley
Konavle attracts lots of tourist during the high season offering its visitors much slower pace than vibrant Dubrovnik. This region is particularly interesting for all kinds of activities which are closely associated with pristine nature and local traditions.
Here are a few activities and tours you may want to consider in Konavle valley:
Cilipi village multicolor folk dance
Cycling tours from Dubrovnik
Horse-back riding and ATV safari in the village Popovici with Kojan Coral
Wine Tour from Dubrovnik with train ride
Montenegro Day Trip from Dubrovnik
Konavle valley cultural and active holidays itinerary:
Visit Bukovac House in Cavtat, the birth house of Vlaho Bukovac, one of the most famous Croatian painters. Read more…
Ethnographic museum of Konavle in Cilipi, founded 1974, displays rich collections of male and female folk costumes, embroidery and other textile handcrafts, jewellery, arms, musical instruments and items used in the everyday life.
Fort Sokol or Sokol Grad (Sokol means hawk) is the biggest fortress on the mountain pass towards Bosnia, strategically important in the period of Dubrovnik Republic. It's located near Dunave village.
Watermills on River Ljuta – this natural park, protected as a cultural monument is one of the most exciting natural beauties. It consists of several watermills. The mill system was extremely important for the economy of Konavle and Dubrovnik Republic.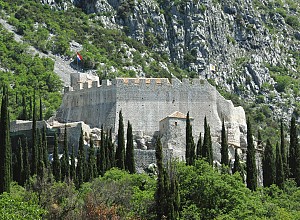 Konavle Valley Foodies Paradise
It's not a secret that Konavale region is very popular among foodies and wine connoisseurs.
If you are looking for a good restaurant in a unique atmosphere of the old Konavle's houses, visit this website with a list of restaurants in Cavtat, Gruda, Pritvorje and Plocica.
In the central part of Konovle valley, you'll find traditional rural restaurants where you can enjoy delicious home made food. Naturally, a good meal asks for a good wine.
Besides the internationally known types of wine, white and red, the domestic type of the Dubrovnik Malvasia, authentic Konavle wine takes a special place.
Getting To Konavle Valley
Cavtat is connected with Dubrovnik by a local bus line which running every thirty minutes in high season. From there you can take a taxi to Cilipi.
During the summer season there is a boat from Dubrovnik to Cavtat, several times a day. It leaves from old Dubrovnik town harbor. (not from bigger Gruz ferry harbor)
Click on the below image for transportation from Dubrovnik to Konavle. There are buses to all parts of Konavle valley.
If you like walking, there is a walkway from Cavtat to Mocici and Cilipi which is a lovely walk parallel with the coast.
It takes about 2 hours in one direction but it's worth as Cilipi is a very charming village There is an interesting folk museum (see above) and if you happen to be there on Sunday, you can watch folk dances in front of the church every Sunday morning at 11.00 A.M. (from April to late October)