These days for most people it's almost unimaginable to be without internet access. Unless you planned the perfect getaway and want to escape from everyday life, having reliable internet access is important even during your vacation.
Whether you want to post your pictures to Instagram or share your travel stories with friends on Facebook, having reliable Wifi access no matter where you are is important.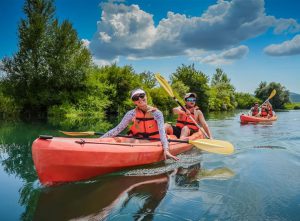 With increasing popularity of Skype, WhatsApp, Viber and other communication apps, making international calls doesn't even have to cost anything, and you can stay connected with your friends and family and leave a part of your budget for something else.
I decided to take a look at some mobile internet offers specifically available to tourists, so be sure to check out my comparisons of services if you're looking to stay online during your vacation in Croatia.
RoamFree Ninja
RoamFree Ninja is one of the most convenient ways to get persistent and reliable internet access in Croatia. It's a pocket-sized router which creates a Wifi hotspot, allowing you to connect up to 10 different devices at the same time (mobile phones, tablets, or laptops).
You can use RoamFree Ninja's device anywhere in Croatia. This small device you can travel with anywhere allows you to online wherever you go. It's also really convenient if you're traveling with friends or family since it enables internet access to every one of you, and on any device that can connect to a normal Wi-fi network.
Ninja package includes 20GB of data transfer daily, which is more than enough for 99% of tourists. Spending a couple of hours on Facebook will probably not even use 5% of that. Essentially, you can watch Youtube in HD for about 18 hours every day.
RoamFree Ninja is also very convenient, as it will be delivered to your doorstep prior to your departure (or in your accommodation in Croatia if you prefer), so you can connect the moment you arrive. And once you're done with it you can simply throw it in any mailbox in the included (and already paid for) envelope. It's actually very simple, and you can find more details on RoamFree Ninja website.
Ninja's pricing starts at €7.95 per day and the price depends on how long you'll be using the device, so it's equally affordable regardless of how long you're staying. If you need unlimited wifi for multiple devices or several people, it's definitely the best option.
Alternatives
Most Croatian mobile networks offer SIM cards for tourists which include free (or at least cheap) calls and typically very limited data transfer.
You can usually buy these SIM cards at airports, or at almost any gas station, news stand, and many grocery stores across Croatia.
I included a few offers from Croatian mobile networks below, valid for summer 2019.
Tele2 "Surf & Call"
With this SIM card specifically made for tourists, you get 10GB of data transfer, 200 minutes of free calls to Croatian numbers, and international calls to landlines in certain European countries will cost 0,39 Lipa (more about Croatian currency) per minute (0,05 EUR). Pricing info when calling international mobile numbers is not specified, but I'm guessing it's much more expensive, assuming it's even available.
Cost of Tele2's Surf & Call SIM card is 59 kn (approx. €7.86), and you have 10 kn included in your account, meaning you can essentially talk for about 2 hours. You can view more details on Tele2's website here!
This offer is indeed quite cheap if you only need the bare essentials, but for anyone wanting to watch a couple of videos during your holiday in Croatia the 10GB included will probably not be enough.
T-Mobile Unlimited Internet
T-Mobile has a better offer compared to Tele2, especially if you mostly need internet access. Their SIM card costs €11 (85 kn), and includes 7 days of flat rate mobile internet at 4G speed (from my experience T-Mobile also has better signal coverage than other networks in Croatia).
After 7 days, you can extend your internet access for an additional 75 kn (€10). The caveat, which of course isn't mentioned anywhere on T-Mobile's website, is that after a certain amount of data transferred you will likely get significantly reduced download speeds (even below 3G), so don't expect to spend half a day on Youtube.
I may be incorrect and perhaps you can get maximum download/upload speeds at all times, but from my personal experiences using "flat" mobile internet options, the download speeds are always reduced after a certain amount of traffic.
In case you want to make calls as well, you will need to purchase and punch in additional prepaid codes.
A1 Tourist 4G SIM Card
Very similar to T-Mobile's offer, A1 (previously Vipnet) offers a tourist SIM card for 80kn (€10.5) which includes 7 days of unlimited surfing.
To my knowledge A1 has the second best signal coverage in Croatia, so you can expect 4G speeds in Split or other larger cities and tourist destinations. If you're cruising through Adriatic and visiting islands along the way, you can usually expect 3G speed which is still acceptable.
A1's tourist SIM card offer suffers from the same issues as T-Mobile's. Despite being advertised as "unlimited" data transfer, you can expect your speeds to drop below 3G once you use a certain amount of internet traffic.
In addition you can only connect one device online, so if you're traveling with a family of four the costs can get unnecessarily high.
The SIM package also includes 100 minutes or 100 SMS messages to networks within Croatia, and you can find the full details on A1's website.
A1 also offers a device similar to RoamFreeNinja, allowing you to connect multiple devices to their wireless modem. It costs 199 HRK (€27), and should be available at many local kiosks or post offices.
Drimsim – Universal SIM for travel
Drimsim offers a universal SIM card for travellers. This SIM card can be used in 197 countries in the world, including of course Croatia. This card is not specific to any cellular network provider, but rather connects to the best and fastest network in any country.
Once ordered, the SIM card will be delivered to you more or less anywhere in the world, so you can have it waiting for you at your accommodation or even before you travel.
Drimsim is an easy and convenient way to avoid roaming charges, especially if you travel to multiple countries. Drimsim's website offers a convenient calculator allowing you to see expenses.
For Croatia you will be paying €10.24 per gigabyte of data transfer. This is a more expensive offer compared to purchasing a local network's SIM card, but it can be a better choice if you are traveling across Europe and visiting multiple countries.
Other networks
I checked Tomato, Simpa, and several other Croatian mobile networks, and couldn't find any offers specific to tourists. All networks offer some kind of mobile internet, but their SIM cards and prepaid cards can be slightly more inconvenient to purchase and use for tourists.
Can't I use free Wifi networks?
Many bars and restaurants and most hotels and private apartments offer free wifi for their customers. Download speeds are in most cases from 4Mb/s to 10Mb/s. Croatia has one of the slowest and most expensive DSL networks in Europe, thanks to T-Mobile's monopoly and lack of investments. Statistically our internet prices are 30% more expensive than Europe's average, and we're second to last in data transfer speeds.
Before you book your accommodation make sure it has free DSL if you need it. Some owners offer it but charge extra, and most mobile internet offers on this page will probably cost less.
The biggest issue with DSL lines is the terrible upload speed (often 0,5 to 1Mb/s). Be prepared for extremely slow uploads if you intend to upload a large number of pictures or videos of your vacation. Mobile internet usually has better bandwidth, allowing you to upload files at 50% of your download speed.
If your accommodation offers free internet access then by all means use it as much as you like, but the clear downside is that you'll only be connected while you're "home". If you need internet access on the go (how else will you read my travel guides during your tours?), renting mobile internet is the only alternative.
Which mobile internet option to choose?
Assuming you're traveling alone and don't need to make international calls, T-Mobile's offer is the cheapest and should be enough if you only need to use Facebook or do a quick Google search. If you continuously watch videos your download speed will likely get reduced to barely acceptable levels.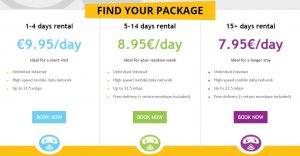 If you're traveling with someone else then I'd definitely recommend Roam Free Ninja – carrying the device with you isn't a problem at all since it's very small, and you can get good speed and unlimited data transfers. Pricing is actually very cheap if you want to have multiple devices or people connected.
The biggest upside to Ninja is that it allows you to connect up to 10 different devices at the same time, so your entire family can stay online anywhere in Croatia. Young friends traveling together or parents bringing teenagers will surely understand why this is the best offer, especially if your vacation is longer than a week.
RoamFreeNinja is also the most convenient way to connect multiple devices at the same time, and if you're traveling with 4+ people it's also the cheapest option.