Hvar boat rental is the best way to enhance your holidays in Hvar town. With so many islands in front of this premier island of Hvar town it is practically impossible to cover all bays and beaches.
Renting a boat from Hvar port you'll be able hopping each day a new bay and beach. When you are on the island you will need a boat to make your holidays perfect and more exciting.
The most popular Hvar town beaches are scattered on Pakleni Islands. Only some of these islands are reachable by taxi boats that leave from the port very often in the high season.
The finer gravel beaches are located on the southwest side of the island facing the open sea, near the village of Ivan Dolac, Zavala and  Milna.
To visit all of them you will need a boat!
The best sea activities with Hvar boat rental
Renting a boat from Hvar boat company you can reach any bay or beaches on Pakleni islands. The most popular sandy beach 'Vinogradisce' on Palmizana is reachable only by boat.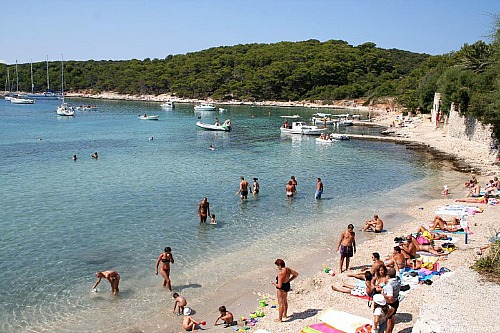 Get to Stipanska beach on Marinkovac Island with Carpe Diem beach bar during the day, with great parties during the night.
Carpe Diem is the most popular club in Hvar so I'm sure you will have a great time on the beach near their beach bar.
Renting a boat is the way for enjoying the best of Hvar and the Adriatic Sea in an adventurous way and for all other types of sea excursions, like diving or snorkeling.
What type of Hvar boat rental is for you?
Depending on your needs and budget, you could either rent a speedboat or a small motor boat. I'll list the pros and cons of both so it's up to you to decide!
Speedboats
If you decide to visit some neighboring islands like Brac and Vis than renting a speedboat you can arrive fast to some places that you should visit like:
Golden Horn beach on Brac island in Bol town
Blue Cave on island Bisevo near Vis is the most beautiful cave on Adriatic.
Green Cave on island Ravnik near Vis is a beautiful place to swim.
Prices for these fast speedboats start from € 114 to € 314 per day.
Smaller motor boats
This type of boats are the best choice for short distances. Visiting each day a new bay among Hvar Paklina Islands will satisfy the needs of small families or a group of friends.
Pictured to the right is "Pasara" small motor boat suitable for up to 5 people, with the following features:
Pasara 8HP – boat features:
Length: 4.70 m
Capacity: 5 persons
Engine: 8 HP
Pasara 6HP – boat features:
Length: 4.80 m
Capacity: 5 persons
Engine: 6 HP
Pasara 5HP – boat features:
Length: 4.70 m
Capacity: 5 person
Engine: 5 HP
If you think that speedboats are too expensive or if you feel the speed is not the most important factor you can opt for a small boat that is very easy to drive and very affordable to rent.
Small boats with 6HP to 8HP engines offer enough power and speed for your trips to beautiful Pakleni islands or nearby southern Hvar bays. They are all very comfortable and safe with capacity up to 5 persons and length up to 5 m. They all have an outboard engine from 5 to 20HP (horse power).
Rental price per day for smaller motor boats start from € 40 to € 83.
Do you need a license for Hvar boat rental?
If you ask this question to boat rental companies, the answer will be:
'Renting a motor boat on Hvar is especially convenient since you don't need a license or skipper and we will teach you how to control your motor boat'.
Ask for more information at Harbor Captains Office (Port Authority) in Hvar town at:
Lučka kapetanija Hvar
tel: + 385 (0)21 741 007
If I were you I would not take it for granted as in Croatia you must possess a valid license for vessels at sea. There are some unofficial rules that under 50hp (horsepower) you don't need a license, and these small boats usually have 5hp or 10hp. For boats over 50hp they will ask you to show them a license.
In Croatia, it is possible to obtain a license within one day, after passing the exam (usually 10 basic questions).
The exam must be registered in advance at least 7 days at the nearest Harbor Captains Office (Port Authority) where you want to pass the exam.