There is no Split without Hajduk Split football club. When talking about my home town, you can't but mention this famous club. The club color is white and you will probably hear club's supporters  using the second name – BILI (Whites).
The name 'Hajduk' is referring to freedom fighters in Southeastern Europe who fought against the invading Habsburg and Ottoman occupations. That is why the founders of the club gave the club its name.
Hajduk Split History
The story of football game (soccer) in Split has started long time ago in 1911 when a group of students (Fabijan Kaliterna, Lucijan Stella, Ivan Sakic and Vjekoslav Ivanisevic) who studied in Prague where watching matches of local rivals Sparta and Slavija, came up with the idea to found a football club in their home town.
Their idea has found general support as young  people of Split very soon accepted football as the major sport. The only problem was where to find a suitable playground for this sport.
The only suitable place was a space located next to the old City Gas Plant (today Plinarska street) used as a training ground of the former Austro-Hungarian army.
After many requests and troubles, the local authorities have granted permission to use this location to built a playground measuring 100 x 60 meters.
I won't forget this old stadium and the some important matches I took part as a fan. It felt like being stuck in a box of sardines, where the head was the only part of the body you could move.
During some big matches against rivals like Red Star and Partizan from Belgrade and particularly against Dinamo from Zagreb, on each goal scored by Hajduk, I risked to be smashed by the enthusiastic fans.
It was dangerous but unforgettable experience and a pleasure to be a fan of my Hajduk.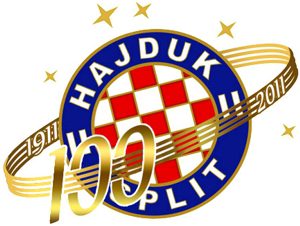 In 2011 when Hajduk Split celebrated its 100-th birthday Hajduk fans voted for the best 11 Hajduk Split players of all time.
Beara
Dzoni
Buljan
Holcer
Jarni
Sliskovic
Muzinic
Jerkovic
Vukas
Matosic
Surjak
Hajduk Split Supporters – Torcida
Torcida is originally Brazilian and Portuguese name for "supporters". Split torcida founded on 28 October 1950 is known as the oldest supporters group in Europe. It was in 1950 during the World Football Championship where ex Yugoslavia team took part.
Among the players were some big names from Hajduk like Vladimir Beara, a goalkeeper, Bozo Broketa, a defender and one of the the most famous  Bernard 'Bajdo' Vukas, a goal scorer.
Their slogan, 'Hajduk lives forever' demonstrates the unbreakable bond between a club and supporters.
They testify a long and continuing tradition of Hajduk Split, which has survived without change from its establishment until today.
One of the most convincing examples of cooperation between the club and the fans was when Hajduk was punished by UEFA to play the next match without the supporters.
Torcida organized action of buying "tickets" for a match they can't attend. They simply donate money to their club, equally to what club would earn if fans could attend the match.
As a sign of gratitude towards their fans, the club has retired jersey with number 12 in honor of their 12th player, Torcida supporters.
Hajduk A New Stadium
Old stadium better known as Stari Plac (Old Lot or Old Ground) was an inadequate football ground and finally in 1979 team moved to a new stadium, Poljudska Ljepotica (Poljud Beauty).
The new stadium capacity is only for 35 thousand spectators but it's famous for its position in Poljud district (view on Google Maps), very close to the sea and has the form of a shell.
It's considered the most beautiful stadium in Croatia built to host the Mediterranean games.
Today it's a new home of Hajduk and its fans. That same year, Hajduk won the ex Yugoslavia Championship again.