Getting to Hvar island can be very stressful if you are traveling in high season, particularly by private car. To avoid any unnecessary delays or inconvenience simply follow my advice to ensure your holiday goes smoothly.
On my Split in July and August page, I've outlined some tips for easy and trouble-free planning for your Split and nearby islands adventure. Usually the most common visitor complaints are about large crowds.
In these months a lot of tourists from all of Europe (mostly Germans and Italians in August) move down on the beaches and popular coastal cities such as Split, Makarska, Dubrovnik, or Hvar and Kurcula islands.
Over 10 million tourists visit Croatia each year. The majority of them come in high season, from mid July to mid August.
If you're curious about how to get to Hvar island, here are all possible ways to reach it:
Getting to Hvar island from Split by car ferries
The best ferry connection is from Split harbor. Ferries from Split to Stari Grad (Hvar) run in winter at least three times a day, while in the summer season the number of trips increases up to six a day.
The two-hour long Split-Stari Grad car ferry crossing is the main link between Split and Hvar island. As such it can be quite crowded in summer period, especially mid July to mid August.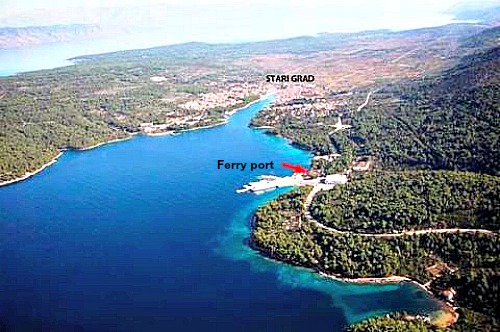 Keep in mind that foot passengers usually won't have trouble boarding, but passengers with vehicles should reserve their spot at least a day in advance during the high season.
Alternatively you can always drive from Split via D8 coastal road to Drvenik and take the Drvenik-Sucuraj ferry. But since Sucuraj is on the other end of Hvar island you will have to drive across the whole island to reach Hvar town.
It's important to know that Hvar town is not directly connected with any car ferry. If you are traveling with your car then Split – Stari Grad ferry is the only possibility to reach Hvar town. For getting to Hvar just follow the 20 kilometer road through the villages of Selca and Brusje to the town.
Foot passengers have a bus connections upon arrival in Stari Grad ferry port to Hvar, Jelsa, Vrboska and Stari Grad town center.
During your stay in Stari Grad, the surrounding villages can be visited using the bus company Cazmatrans. The lines between Stari Grad, Hvar, Jelsa, Vrboska, Dol, Vrbanj are held daily.
Stari Grad is connected with the ferry port in accordance with the ferries timetable. Tickets can be purchased on the bus. Company address is: Cazmatrans Ltd Mestrovic, B. B. 21460 Stari Grad. Phone: +385 (0) 21 765 904. Full information can be found on their
website
(also in English).
Getting to Hvar island by fast catamaran from Split port
For foot passengers catamarans are the fastest way to reach their vacation destination on Hvar island, particularly the most visited Hvar town or Jelsa in combination with popular Bol town on Brac island.
For visitors who choose catamarans to reach Hvar or Jelsa, it is important to find your way inside the Split harbor, which can be crowded with people and cars in high season.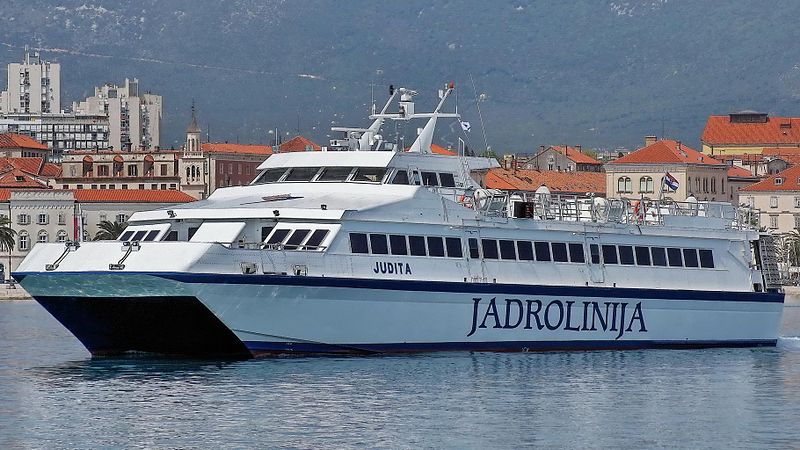 On my Split harbor guide I indicated the pier at Obala Lazareta as the place where all foot passengers can take a fast catamaran to one of the islands. This page also contains timetables and pricing along with some other useful information, so I recommend giving it a look if you plan on traveling from Split ferry port.
Jadrolinija and Kapetan Luka are two companies managing fast catamaran connections with Hvar island.
Jadrolinija keeps lines between Split – Milna (Brac island) – Hvar town, Split – Bol (Brac island) – Jelsa (Hvar island), Split – Hvar – Prigradica (Korcula island) – Korcula town.
Kapetan Luka company keeps fast lines between to and from Hvar and Split, Brac island (Milna), Korcula island, Mljet island (Pomena).

Getting to Hvar island by catamaran is an ideal way for island-hopping fans visiting Brac, Hvar and Vis island. For visitors looking for day tours from Split, taking a catamaran makes it possible to visit:
You can find organized day trips from Split to any of the above attractions, but if you prefer planning and organizing everything by yourself it's definitely possible.
Getting to Hvar island by Coastal Line
Coastal line Rijeka – Dubrovnik is not running any more. Jadrolinija announced that a new timetable on the coastal line from Rijeka – Split – Stari Grad (Hvar island) – Kurcula – Dubrovnik is definitely canceled.
Every year many tourists enthusiastically await for this popular route linking the North and South Adriatic coast. Ship "Liburnija" sadly does not sail since 2015 summer season as we were accustomed to in past years.
I must remind you that only port capable for disembarkation / embarkation of cars/passengers is Stari Grad (Hvar island). In Hvar town car ferries do not dock.
You can check availability and book your ferry travel using this search engine box below. It gives you possibility to search all international ferries to Hvar island (Stari Grad).
Some lines like Pescara – Stari Grad may not always be available as it's a only high season route (July and August) operated by SNAV company.
This company runs fast ferries to Stari Grad and Split with departures at 11:00 A.M arriving in Stari Grad at 16:00 PM, and to Split at 18:00 PM.
During the high season getting to Hvar island is available by several ferry companies from Italian ports Ancona and Pescara and Jadrolinija coastal lines.
JADROLINIJA Croatian company covers line Ancona – Stari Grad – Split – Ancona only in high season.
SNAV company covers Pescara – Stari Grad – Pescara only in high season.
In case you found an outdated reference somewhere, BLUE LINE company is no longer in operation.
Getting to Hvar Island From Drvenik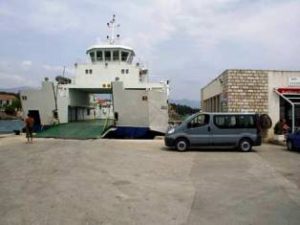 Drvenik to Sucuraj ferry connection is particularly convenient for travelers with vehicles coming from Dubrovnik or from Makarska riviera intending to visit Hvar island.
Drvenik is situated on the Adriatic coastal D1 road, 96 km southeast from Split and 120 km northwest from Dubrovnik.
The easiest way to come to Sucuraj (Hvar island) is by ferry-boat from Drvenik on the Makarska riviera. The ferry takes only 25 minutes between the mainland to Sucuraj village.
In the winter season there are 6-7 crossings a day, while in summer season (from June to September) number of trips increases to 12 to 20 times daily.
Getting to Hvar by seaplane
European Coastal Airlines company used to run seaplanes from Split airport and Split's Matejuska base to Hvar island. ECA enabled everyone to reach Jelsa on Hvar island in just 10 minutes. In addition the service covered other destinations including Dubrovnik, Korcula and Vis.
Unfortunately European Coastal Airlines went out of business, therefore their service is no longer available. Currently there are no companies running hydroplanes between Split and Hvar, but we will update this in case this changes.
From Jelsa to Hvar town
Since many tourists ask about it, here's how to get from Jelsa harbor to Hvar town. The best way is taking a bus to Hvar with the local Cazmatrans company. You can find their current schedules on the website.
Bus departure from Jelsa to Hvar:
07:20 (every day except Sunday and holidays)
09:45 (via ferry port Stari Grad, stops and waits passengers from ferry)
14:10 (every day except Sunday and holidays)
15:40 runs only Sunday and holidays
You can also contact Jelsa's official tourist office right on Riva in the center of town for more information (taxi or private transfers).
High-speed sailboats from Split port
Since recently you can also book a new high-speed ferry service between Split airport and Split town, to Bol (island Brac), and Stari Grad on Hvar island. This line is running from June 1st to September 15th.
You can find out more about this offer and book the service on SplitExpress. Their port is located only 500m from Split airport, and you can even replenish your energy at a nearby beach bar with restaurant.