Getting to Brac island has never been complicated. Thanks to island's proximity to the mainland and to the Split's harbor there are several ways to travel to Brac.
If you don't know how far is Brac from Split, on Brac island travel guide you can see how close is this island to the mainland, separated by Brac Channel.
Because of its closeness to Split town, Brac is the most appealing among Central Dalmatian Island for a day tours.
This also the only island with a fully operating airport just few km from Bol town. On direct flights to Split you can find detailed and current schedules.
Getting to Brac From Split
Car and passengers ferry by Jadrolinija
Brac island is without any doubt one of the most accessible islands when traveling from Split harbor.
Traveling to Brac island by ferry is the cheapest and the fastest way. This island is only 7 nautical miles from Split. Jadrolinija runs the ferry service between Split and Brac.
The closest ferry port is at Supetar, on the island's north coast, almost directly opposite Split. It takes just over an hour to make the crossing.
It costs €5 in high season from May 30 to September 28 while in lower season you'll pay €4. For a car the price goes from €18 to €22 depending of the season. All prices are one-way.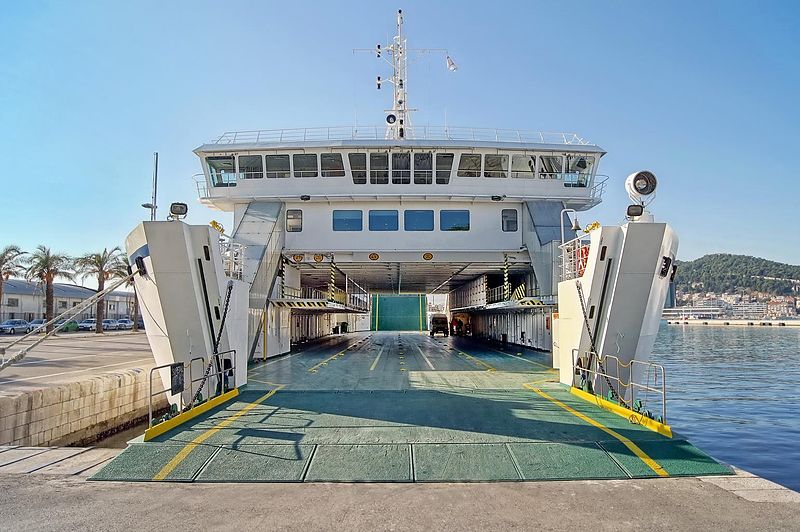 The number of ferry crossings vary from a minimum of 7 to more than 15 in high season. The first crossing starts already at 06 am and the last one leaves even at 1 am. As this ferry route is one of the most crowded in July an August, it happens sometimes to have same additional extraordinary crossings.
It is not possible to book a place on the Jadrolinija ferry so good practice is to come at least an hour before the ferry's departure, park your car in the queue, go buy your ticket and then wait for the ferry to begin loading.
Passenger ferries by Krilo
Krilo (Kapetan Luka) runs passenger ferries from Split to Bol and Milna on Brac island. These catamaran connections run only in high season.
For more information on these catamaran schedules click the links above.
Getting To Brac From Makarska
Car and passengers ferry
In case the ferries from Split to Brac are too crowded, a good alternative is to drive to Makarska, a 65 km south of Split, the capital of Makarska Riviera. From there there is a car ferry from Makarska to Sumartin.
This ferry connects Makarska with Sumartin village on the eastern side of Brac island. Click here to find where's Sumartin.
The ferry-port in Sumartin, a small fishermen village connects a part of the island with the mainland. The length of crossing is 60 minutes and this ferry takes cars and passengers.
In lower season runs 3 times a day while in season departures 4 – 5 times a day. The prices are almost identical with Split to Supetar.
Getting to Brac By Fast Catamaran Boats
If you aren't traveling by car, you have more possibilities to travel to Brac. You can always opt for car and passengers ferries or much faster but more expensive, fast catamaran boats.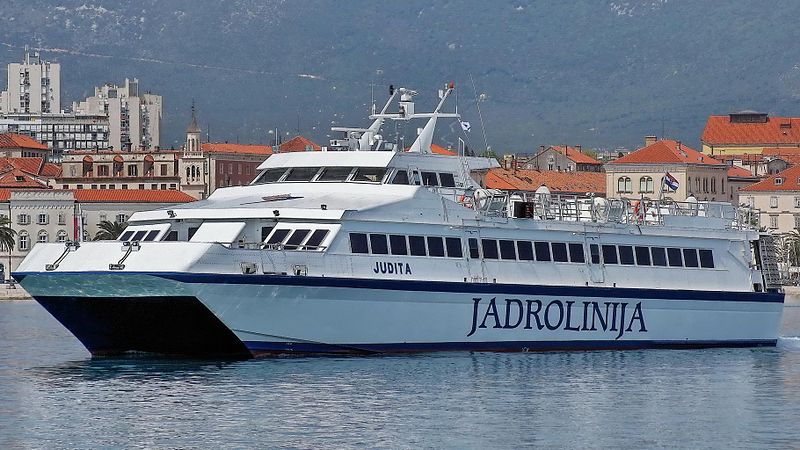 On catamaran from Split connection, you'll find more detailed information to reach Brac island. It's important to know how to move around Split ferry terminals port and how to find more accurately where catamarans depart from.
Split catamaran fast boat connect Split and Brac by two, only seasonal lines.
Split to Brac (Bol) and Jelsa (Hvar) 2015 line N° 9603 – Check the schedule!
Split to Milna (Brac island to Hvar town) 2015 line N° 9603 A  – Check the schedule!
Both connections are operated by Jadrolinija, Croatian state maritime company.
Krilo is an excellent alternative for getting from Split to Brac island via catamarans as well:
In addition to Split – Brac and Makarska – Brac as detailed above, Krilo also runs connections with Brac island from and to:
Sobra (Mljet island)
Links above will give you pricing and schedules.
Getting to Brac By Plane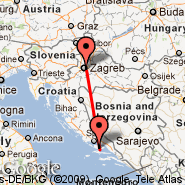 Besides Split airport, the main hub for all flights to Central Dalmatian destinations, there is also a small airport on Brac island.
Bol Airport or Brac Airport with IATA code BWK is an airport on the Croatian island of Brac, close to the town of Bol.
It is one of three island airports (two other are on  Krk island  – Rijeka Airport and Losinj island – Losinj Airport). Brac airport is used for commercial passenger flights, mainly charter traffic from Europe during the summer season.
New flights from Germany to Brac
The flights will be from Dusseldorf and Leipzig to Brac Airport, the only island airport in Dalmatia. It is unnecessary to point out the importance of these flights to this small airport (BWK). Read more about direct flights to Split!
Airport is situated in Vesko field, 541 m above the sea level. It is only 14 km far from the most beautiful and most famous Adriatic beach, Zlatni rat (Golden horn) and 30 km far from Supetar. All info you can find on Wikipedia page about this airport.
During the high season Croatia Airlines runs direct flights to Brac (Bol) airport only once a week (on Saturday).
If you decide to get to Brac by plane, there are also some others smaller companies that operate charter flights. Schedules and operators change too frequently, but you can do a live search for flights through the form below.
Getting Around Brac Island
If you are getting to Brac island by a car, it will be useful to know the distance in kilometers  between the most popular destinations. By car you can arrive on the island only from Split to  Supetar and from Makarska to Sumartin:
Supetar – Bol  – 35 KM
Supetar – Milna – 20 KM
Supetar – Sumartin – 40 KM
Supetar – Pucisca – 25 KM
Supetar – Mirca – 5 KM
Supetar – Sutivan – 8 KM
Supetar – Nerezisca – 8 KM
Supetar – Splitska –  6 KM

Sumartin – Milna – 47 KM
Sumartin – Bol – 27 KM
Sumartin – Supetar – 40 KM
Sumartin – Pucisca – 27 KM
Sumartin – Sutivan – 47 KM
Sumartin – Mirca – 41 KM
Sumartin – Nerezisca – 31 KM
Sumartin – Splitska – 40 KM
You can check yourself these distances visiting this link.
Getting around by bus
Getting to Brac as a foot passenger you shouldn't worry to much how to get from one place to anther. There are regular bus services to all parts of the island but keep in mind that all services begin or end in Supetar.
What does it mean for you? It means that if you get off from catamaran to Milna and your destination is Bol, than the bus will take you to Supetar first and than to Bol. It will seem a little inconvenient but that's the way it works.
The bus company that manages island's internal routes is Autotrans. Check the schedule on their website. You must purchase tickets at the bus station.
On Autotrans website you can find outlets of different destinations like Supetar and outlet Bol Brac.
Car rentals on Brac island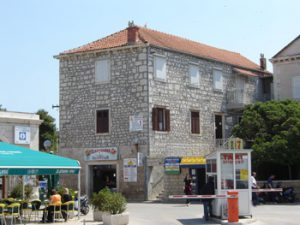 On the other hand, you can wait until you arrive on the island and hire a car from a local travel agency. Mopeds are also available for hire. Don't forget to bring your license.
If you are looking to rent a scooter in Supetar in this building there is a small car and scooter rental company – M & B Supetar.
Address:
Riva bb, 21400 Supetar
Tel: 00385 21 630 709
Fax: 00385 21 757 709