Discover the top Croatian wine regions and taste the best wines we have to offer. Learn about the local life, learn traditional wine making secrets and visit wine cellars where you can experience our domestic specialties.
Highlights:
Visit the Pelješac peninsula and its picturesque vineyards
Discover local life and traditions
Visit three wineries and taste the country's finest wines
Discover the town of Ston
Itinerary:
Visit the Pelješac peninsula, one of the best wine producing regions in Croatia. From the ancient Greek times, due to its specific geographic and climatic predispositions, this area has become a leading region in growing grapes and producing wine.
This tour allows you to sample the best local wines and enjoy the magnificent peninsula scenery and picturesque vineyards. We will take you to a breathtakingly scenic one-hour walk through a unique wine growing region of Dingač. You will get some great insight into local life and traditions of this unique region from your tour guide.
Afterwards, you will renew your energy in one of the local restaurants with domestic specialties. In order to taste the country's finest wines and meet wine growing tradition that has been part of the local culture for centuries, we will take you to visit three wine-cellars well known in this region.
Also, we will take you to visit town of Ston, the town notable for the producing salt in the traditional manner, the oyster and muscle cultivating and for its remarkable walls that are believed to be the second longest in the world after the Great Wall of China.
Image information:
This image is named
Wine Tasting Tours
and was uploaded to my article here:
Definitive Guide to Dubrovnik
. Please read the full guide for more context about
Wine Tasting Tours
photo, or find other related photos below.
From my Definitive Guide to Dubrovnik article: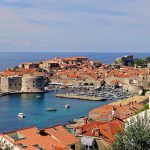 Not visiting Dubrovnik while in Croatia is the same as traveling to Italy and miss seeing Rome. The town of museums and festivals, the town of taverns and restaurants, the place of a mild Mediterranean climate and wonderful landscapes confirms the famous saying of the Irish writer: "Those who look for a paradise on earth should come to this town." – Bernard... Read more »