Discover the beautiful towns of Ston and Korcula. Walk on the amazing walls in Ston town and enjoy breathtaking views, and once you're done take another trip to fantastic Korcula town.
Highlights:
Visit the town of Ston
Taste fresh oysters in small village Draca
Discover beautiful Orebic
Explore the medieval city of Korcula
Visit the Treasury of the Abbey
What will you see?
Town of Ston is situated on the narrow isthmus connecting Peljesac peninsula with the mainland.
This little town is often called a smaller copy of Dubrovnik. The magnificent walls surrounding the town are 5 km long. The construction started in 1317 and it took almost 2 centuries to complete one of the longest defensive walls in the world.
The ancient salt pans that were in use during the Dubrovnik Republic are another interesting site along the way. However, when you mention Ston in Croatia people usually think of oyster farms that are all around the area.
Continue with the drive to small village of Draca to taste fresh oysters. Drive to Orebic, then by speedboat accross to Korcula. The city of Korcula is one of the most beautiful medieval towns on the Adriatic coast.
Sightseeing includes a walk along its narrow streets and squares, surrounded by Renaissance palaces, then a visit to the Treasury of the Abbey. After lunch enjoy a relaxing ride back to Dubrovnik along Peljesac Peninsula, and a stop at a local wine-cellar to taste some of the renowned Peljesac wines.
Image information:
This image is named
Ston town walls
and was uploaded to my article here:
Definitive Guide to Dubrovnik
. Please read the full guide for more context about
Ston town walls
photo, or find other related photos below.
From my Definitive Guide to Dubrovnik article: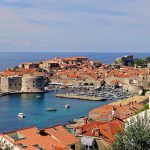 Not visiting Dubrovnik while in Croatia is the same as traveling to Italy and miss seeing Rome. The town of museums and festivals, the town of taverns and restaurants, the place of a mild Mediterranean climate and wonderful landscapes confirms the famous saying of the Irish writer: "Those who look for a paradise on earth should come to this town." – Bernard... Read more »