If you are looking for an adrenaline tour this is the one you have been looking for. Discover the greatest canyon in Europe with a crystal clear river, feel the amazing adrenaline rush, and make moments to remember.
Highlights:
Explore the breathatking River Tara
Enjoy in its purity "Tear of Europe"
Discover River's canyon, the greatest canyon in Europe
Tara canyon is under the protection of UNESCO
More info:
Don't miss this great opportunity to experience the magnificent River and Canyon.
We expect you in the camp when we the start of preparation for departure on the descent. You take your rafting equipment and we head to Brstanovica, our starting point of rafting. Then starts the most exciting part of the rafting through canyon, a distance of about 15km of Tara, and rafting on Drina to the camp, approximately 5km.
During rafting, we make a few breaks for swimming, taking photos and visiting some of the nearby attractions. After the adrenalin fun on a river, rafting tour ends at the camp "TARA-RAFT", from where we started the adventure.
At the restaurant a warm lunch awaits that will, in the best possible way, complement your daily enjoyment. You will be served with specialties under the iron pan (lamb or veal), various kinds of steaks and chops of veal, chicken or pork, with ubiquitous rafter soup with addition to salads. You can also choose between a few vegetarian and vegan dishes.
Image information:
This image is named
Rafting on Tara river
and was uploaded to my article here:
Definitive Guide to Dubrovnik
. Please read the full guide for more context about
Rafting on Tara river
photo, or find other related photos below.
From my Definitive Guide to Dubrovnik article: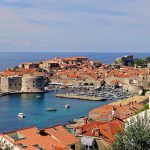 Not visiting Dubrovnik while in Croatia is the same as traveling to Italy and miss seeing Rome. The town of museums and festivals, the town of taverns and restaurants, the place of a mild Mediterranean climate and wonderful landscapes confirms the famous saying of the Irish writer: "Those who look for a paradise on earth should come to this town." – Bernard... Read more »