Discover the city of Mostar on this full-day tour from Dubrovnik. Enjoy the breathtaking views of the Neretva valley as you travel to Bosnia and Herzegovina. You will visit the small village of Počitelj and discover its history, before arriving to Mostar where you will explore the historic old town, beautiful cobbled streets and amazing architecture.
Highlights:
Discover the breathtaking views of the Neretva valley
Visit the small village Počitelj
Explore the town of Mostar and its beautiful Old Town
Walk along the cobbled streets and discover the Turkish influence on the town's architecture

Full description:

Discover the city where East meets West. An exhilarating journey full of contrasts – rugged coastal area gradually melting into fertile greens of Neretva Valley full of scented citrus fruit and kiwi plantations.

The most memorable part of the trip is a visit to Mostar itself, also known as the "melting pot of cultures".

Predominantly influenced by centuries long Turkish rule, tall, slim minarets reaching for the sky, cobbled bazaar street with rhythmic tapping of hammers against copper plates as they are being transformed into pretty souvenirs, houses with ornate wooden balconies all remind you of times gone by. This truly is a place where East meets West.

On our way to Dubrovnik, we will have a brief visit to the village Počitelj which serves as a reminder of 4.5 centuries of Eastern cultural influence in these territories.
Image information:
This image is named
Mostar town tour from Dubrovnik
and was uploaded to my article here:
Definitive Guide to Dubrovnik
. Please read the full guide for more context about
Mostar town tour from Dubrovnik
photo, or find other related photos below.
From my Definitive Guide to Dubrovnik article: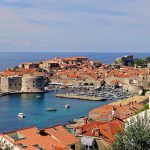 Not visiting Dubrovnik while in Croatia is the same as traveling to Italy and miss seeing Rome. The town of museums and festivals, the town of taverns and restaurants, the place of a mild Mediterranean climate and wonderful landscapes confirms the famous saying of the Irish writer: "Those who look for a paradise on earth should come to this town." – Bernard... Read more »