Dobrodosli (Welcome) to Croatian language essentials guide. You never know when you will need some expressions when traveling around Croatia.
Knowing a few useful travel related Croatian phrases can be of great help to make your stay more pleasant.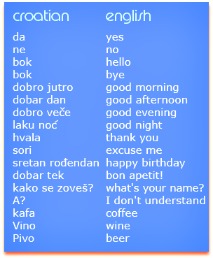 Take same time to learn or to listen some everyday phrases can easily make your stay more enjoyable, as the locals will be surprised and happy to hear a foreigner speak Croatian, even if it's just a couple of words.
You can believe me they won't laugh, they will be proud with you, and honored that you took the time and effort to learn a bit of our language.
It is not my goal to teach you my native language (Hrvatski jezik), but to illustrate you some everyday expressions you will need when:
asking the way
ordering or paying your restaurant's bill
common forms of addressing and greetings, polite phrases
learn days in a week, months in a year, expressions of time
numbers
basic pronunciation
small talk sayings
signs and emergencies and language difficulties
Basic Words
Hello – Zdravo
Goodbye – Doviđenja
Yes – Da
No – Ne
Please – Molim
Thank you – Hvala
You're welcome – Nema na čemu
Excuse me – Oprostite
Sorry (excuse me) – Pardon (izvinite)
See you later – Vidimo se kasnije
Pronunciation
You'll notice Croatian language has some special letters you won't find in English, such as Č, Ć, DŽ, Đ, and Ž, and LJ and NJ. This is approximately how they're pronounced:
Ć – as the "tu"in "future"
Č – as "ch" in "chop"
C – as "ts" in cats
Đ – as "j" in "join"
Dž – as "j" in "just"
J – as "y" in "young"
Lj – as "lli" in "million"
Š – as "sh" in "ship"
Ž – as "s" in "pleasure"
Some of these letters and their pronunciation can be a bit strange and intimidating at first, but if you're looking to learn a bit of Croatian be sure to remember these.
Many towns, places, beaches, restaurants etc. have our "strange" letters, and pronouncing them properly can go a long way to explaining where you want to go when asking for directions.
Croatian Language
English speaking tourist nowadays will find that most young people speak very good English.

Most people in tourist offices, travel agencies, hotels, camping sites and restaurants beside English also speak Italian and German.
(Croatian: Hrvatski jezik) is a language of the western group of South Slavic languages which is used primarily by the Croats. Croatian is a southern variant inside the Slavic language family. Other languages in this group include Serbian, Bosnian and Slovene (language spoken in Slovenia).
Croatian and Serbian used to be considered as one language (sometimes called Croatian-Serbian or Serbo-Croatian) until recent events in former Yugoslavia. Bosnian language was also classified within the general "Serbo-Croatian" group. I wouldn't recommend mentioning anything Serbian in front of a Croat, we are very touchy about that.
From a linguistic point of view, structurally and lexically all these languages are actually so similar that can be describe as dialectical variants of the one language.
Our language is based on the Ijekavian pronunciation of Štokavian dialect (with some influence from Čakavian and Kajkavian) and written with the Croatian alphabet.
Language difficulties
Do you speak English? – Govorite li engleski?
Does anyone here speak English – Da li iko ovdje govori engleski?
I understand – Ja razumijem
I don't understand – Ja ne razumijem
Could you speak more slowly, please? – Molim vas mozete li malo sporije govoriti?
Small talk:
What's your name? – Kako ti je ime?
My name is….  – Moje ime je…
Where are you from? – Odakle ste?
I'm from…..  – Ja sam iz…
USA – Amerike
Canada – Kanade
England – Engleske
To learn more Croatian be sure to check my useful Croatian phrases article!