Croatia cooking reflects the cultures that have influenced the country over the course of its history. Therefore, there's a considerable diversity between the Italian-style cuisine on the coast and the Hungarian, Viennese and Turkish-style cuisine in the interior.
Each region has its own specialties, but wherever you go you'll be surprised by the generally good quality food, made from fresh, seasonal ingredients.
Dalmatian cuisine is typically Mediterranean under the strong influence of Italian ways of cooking. This impact is due to geographical position and historic influence on Dalmatia and its islands.
In both cuisines you'll find the same ingredients like various types of fish, shells, crabs, octopus, squid, lamb meat, beef, olives, olive oil, vegetables, wild herbs, almonds, figs, pomegranate, grapes, honey, raisins and citrus fruits.
Besides these resemblances there are still some differences, mainly in regard to the first course which in Italy almost always starts with a pasta meal. Pasta is not a typical starter meal in Dalmatia. More often a risotto is used as a first course in Dalmatian cooking.
Nowadays in many Split restaurants you will get also pasta (spaghetti), but pasta made in Italy rather than a locally made one as the difference is in type of flour used. In Dalmatia potato doughs (noodles with njoki – Italian gnocchi) are way more popular, and are usually served with Pasticada stewed beef.
There are also other variations between these cuisines, as Italian is more spicy with an increased quantity of onion and garlic, but even this fact depends on a particular chef.
Some of my favorite Croatian cuisine dishes!
I'd like to propose you some typical meals from cuisine, mostly used in Dalmatian regions starting from the first courses and finishing with some deserts.
As a native of Split, I can recommend you some classic food dishes as a must-try for visitors.
Classic foods of Split Croatia range from inevitable seafood as a point of pride to typical meat dishes, enriched with the use of raw vegetables and to finish some delicious pastries.
When speaking of gastronomic specialties in Split, I would definitely recommend some of most typical ones.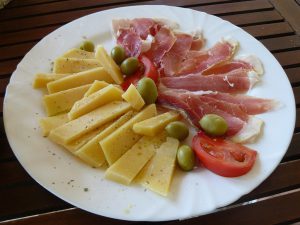 Thin slices of smoked Dalmatian ham (prsut) with Paski sir (famous sheep's milk cheese from island of Pag) are often on the starter list.
As a first course you will usually get served pasta such as spaghetti or risotto. In Dalmatia the so called 'manistra na pome' (pasta with tomato sauce) is a staple. Konoba Hvaranin in Split is famous in this tomato sauce. Many locals go there only for that, and it's also the most economic meal you can find in Split!
Split Croatia cuisine – second courses
Scampi and shells – 'alla buzara'
Mussels, oysters and scampi are prepared "na buzaru" in Dalmatian region. They are placed in a pot and covered with grated parsley, garlic, bread crumbs, salt, pepper, wine and oil.
They are left on the fire in their juices until their shells open. They are served in their own juices with bread or palenta (cornmeal) or pura (Croatian name).
This popular fish dish is served in most of Split restaurants, particularly in those called 'konoba' (local taverns). You can find a list of some of the best konobas here!
Black Risotto – 'Crni Rizot'
Every seafood restaurant in Split Croatia has a crni rizot (black risotto) as a traditional part of Croatian cuisine menu.
Basically, it's squid risotto. The squid ink is preserved to paint rice in black.  Besides squids, this risotto contains other seafood, particularly mussels, clams and other shellfish.
Crni rizot is simply a must-try in Split restaurants. You can find it almost everywhere.
Dalmatian Brodetto (Fish Stew)
Brodetto or brudet (in Split dialect – Brujet) is a fish stew prepared in all parts of Dalmatian coast and islands. Much like 'Black Risotto', it's a traditional meal served in most Split restaurants.
This rich fish stew is made of different fish kinds like angler fish, grouper fish, moray, conger eel and specially large scale scorpion fish. The last one is the one which the meal can't go without.
Before you order it I recommend you to ask your waiter if a scorpion fish is in there, as without this fish it only remains a name without taste and typical density.
If you decide to prepare brodetto at home, it the best to do so using several kinds of fish. Cover the fish with water and let it boil before adding the vinegar.
Cook for 1-1,5 hours, letting it simmer over a low fire. Do not stir, just shake the casserole gently instead so that the ingredients should remain in layers in the same order they have been added.
Brodetto is typical Split cuisine fish meal, best served with boiled polenta (pura), rice or spaghetti (pasta).
Pasticada Stewed Beef
It's definitely the most popular meal in Split restaurants. It's served in best restaurants like konoba Hvararin, Fife, Matejuska and others, and it's rather low cost meal.
This is my popular dish I prepare on Christmas Day. I use my mother's old recipe with dry black plums as a peculiar supplement that gives to this meal special aroma.
Stewed beef is served in Dalmatia in gravy sauce with noodles. This is a representative Dalmatian specialty which is on many occasions simplified, but according to this recipe you can prepare it for special occasions and special company.
My favorite Croatia cuisine deserts!
Dalmatian Fritters (fritule or hrustule)
Krostule or fritula is a traditional pastry from Dalmatia and Istria. These are almost like little doughnuts. Grown ups and children alike can't get enough of them. They are often made in Croatia around the Christmas holiday season.
They are usually flavored with brandy and citrus zest, containing raisins, and are topped with powdered sugar. The cooking time is very short, but be sure the doughnuts are nicely browned before removing them from the hot oil, otherwise they'll take on strange shapes.
It's advisable to fry just a few balls at a time, shaped with two dessert spoons – too many and they may stick together.
Fritule – Croatian Donuts recipe!
Rozata Traditional Dalmatian Pudding
Rozata is a traditional Dalmatian pudding with caramel sauce. Its name come from unique Dubrovnik Liqueur Rozalin (rose liqueur), which gives the cake its special aroma. If you don't have Rozalin liqueur, try Maraschino or Rum.
Read here more about Rozata and try the recipe!