Are you wondering where to get COVID-19 testing in Dubrovnik Croatia? Many tourists are curious to find out where to test for COVID-19. In Dubrovnik this can be done in three different locations.
Dubrovnik-neretva county Public Health Institute (ZJZ Dubrovačko-neretvanske županije):
Address: Ul. dr. Ante Šercera 4a, 20 000 Dubrovnik
Phone: +385 20 341 000
No drive-in testing available, results within 6 hours.
Working hours are Monday to Saturday 07:30 to 10:00 AM.
Appointments are required. More information here.
Dubrovnik General Hospital (Opća bolnica Dubrovnik):
Address: Dr. Roka Mišetića 2, 20 000 Dubrovnik
Working hours: 7:30 to 10:00 AM in drive-through location (Monday through Saturday, not working on Sundays)
Phone: +38520 431 731
Results can be provided within 12-24 hours
Commercial testing must be with appointments done exclusively through email [email protected]@bolnica-du.hr. Must provide name and surname, date of birth, passport number and citizenship, phone number, and email if you wish the test report emailed to you.
Information about this can also be found on Dubrovnik General Hospital's website, unfortunately no English translation is provided.
Dubrovnik Health Center (Dom zdravlja Dubrovnik):
Address: Dr. Ante Starčevića 1, 20 000 Dubrovnik
Working hours: 07:00 – 20:00 Monday to Sunday. COVID-19 testing is only done 8-9 AM for PCR and 9-10 AM for antigen (ICT) tests.
Phone: +385 99 52 91 888, +385 20 641 613
Testing will not be done if you just show up in Dubrovnik Health Center. Drive-in testing is done on a different location: Auto Camp Solitudo (address: Vatroslava Lisinskog 60) – see map below. Mandatory call and appointment is required here.
More information on Dubrovnik Health Center's website here (no English version provided).
Coronavirus testing in Dubrovnik is priced at €200. Make sure to bring cash and Croatian Kunas as Euros or credit cards may not be accepted at some locations.
Full map of COVID-19 testing locations in Croatia:
See also: Split COVID-19 test locations
For more information on visiting Dubrovnik during the coronavirus pandemic see our main COVID-19 information hub!
Image information:
Photo resolution: 1315 × 657
From my Coronavirus in Croatia: How to Visit Split and Dubrovnik During COVID-19 article: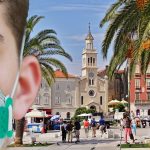 Tourism has been struggling ever since corona virus started spreading throughout Europe in early 2020. All countries closed their borders and started enforcing various measures to contain the spread of the virus. Croatia initially had one of the most restrictive measures out of all the countries in the world. This resulted in a positive epidemic outlook in the first half of... Read more »