The distance from Budapest to Split is only 750 km (466 miles) but many travelers have difficulty finding the right info and resources before undertaking this trip.
Hungary is one Croatia's neighbors and it's quite easy to travel from Hungary to Croatia, especially if you're traveling to or from Budapest.
My article will provide you with comprehensive information on how to get from Budapest to Split, including bus, train, taxi transfers, and flights, and you can use the following links to quickly jump to a particular section:
Budapest is covered by a number of airlines that operate flights from almost all European airports, particularly from British ones. However, I wouldn't advise flying to Budapest if your only intention is to reach Croatia from there.
It's more suitable flying to Italy (Venice for example), Slovenia or Austria, and then continue to Croatia depending on where your final destination is.
However here's some information on how to reach Croatia from Budapest if Hungary is on your travel plan through Europe.
If you are planning to visit Split from Budapest in July or August (not recommended due to a huge number of tourists), the heat and unbearable humidity will persuade you that only cooling place will be once you reach Adriatic sea, and you'll want it as soon as possible. Read more about top overland tour from Budapest to Dalmatian coast!
Traveling from Budapest to Split by train
There are several direct trains per day from Budapest Keleti station to Zagreb, with the journey taking between 6 and 6 and a half hours. From Zagreb, you can then take a train or bus to Split as your destination in Croatia.
There is also night train that travels to Split in summer (mid-June to the end of August), twice a week. Journey time of this train from Budapest to Split is 15 hours.
See The Trainline or Die Bahn website for the best information about train timetables. All trains leave from Budapest Keleti station and go via Zagreb railway station.
Hungarian Railways also provides timetables for routes from Hungary to Croatia.
Budapest to Split overnight train
Seasonal Train Budapest – Split
Departure: 18:20 / Arrival: 08:24
Runs from 13 June till 29 August only.

Departures: Tuesday, Friday and Sunday – From Budapest (Keleti station) – Night Train – Find more here!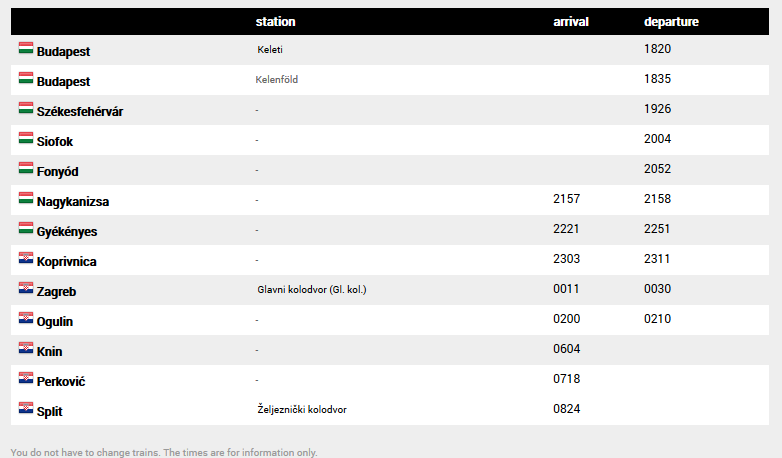 Budapest to Split train ticket and seat reservation price
Checking timetables and reserving tickets in advance is highly recommended, and you can do it on Trainline. On this service you can find out the train price on this route and make a train reservation (seat reservation). On this route timely train reservations are highly recommended.
Buying in advance? Train tickets vary in price depending on several factors, such as how early you book or how many seats are still available.

Night train between Split and Budapest or vice versa runs only during the high season and only one is a direct train (from June 15th to August 31st), while on others you have to change the train in Zagreb. Below is an example of trains on July 14th:
You can see that only one train (number 1204) is a direct one, leaving from Budapest Keleti Pu. station. The first one on the list is a daily train from Budapest Deli Pu. station with a required change of the train in Zagreb. The second one on the list is a night train which also includes a change in Zagreb.
The price of the ticket with a seat reservation (one way) is €122 and without seat reservation (not recommended) is only €7 less (€115).
Again I highly recommend you to use Trainline to book any train tickets in Europe in advance and prevent any potential frustration during your holiday.
Budapest to Split by Air
Flying from Budapest to Split is one of the most convenient ways to get to my country, and typically the fastest. Sadly there are no direct flights from Budapest to Split, and if you decide for airplane travel you will need to transfer once or twice at another airport.
Most flights will first take you from Budapest to Munich or Vienna, where you can continue directly to Split (or even Dubrovnik), or you'll have to fly to Croatian capital Zagreb and take another direct flight to Split or other destination. Prices typically range from €300 and above, but considering travel expenses if you travel by car flying may still be affordable.
For your convenience I've included a search widget below where you can look up flights from over 1000 different airlines and travel agencies. This enables you to easily compare prices are get the best deal possible.
Search above not displaying correctly? Search directly on JetRadar!
Budapest to Dubrovnik flights begin on June 7th, 2020. This air connection is again available after more than 13 years. Polish airline LOT will run flights from and to Dubrovnik and Budapest in starting in June and until late September. Flight takes 1 hour and 15 minutes, and is only available on Sundays.
Dubrovnik is another Croatian destination worth seeing. There are many options to get from Dubrovnik to Split. With Split only a 3-hour drive away, it could be a good opportunity to see both cities conveniently considering your plane will land just after 8AM.
Budapest To Split by Bus
Eurolines is Hungarian company which runs direct buses between Budapest and Split. Tickets are available between June 17th up to September 10th (may vary). Check their timetable from this website!
Eurolines's buses to to Split also stop in Zadar, Biograd, Vodice, Sibenik, Primosten, and Trogir along the way, along with Omis and Makarska. It may also be convenient for you in case you need to travel to any of these destinations.
This line will run only once a week, on Friday to Split and Makarska. To find the selling points in Budapest, you can visit their selling points and travel info page. The detailed timetable can be downloaded here!
EuroLines Hungary runs two express lines from June to September:
Adria Express – Bus line from Budapest to Rijeka, Pula, Rovinj, Porec, Novigrad and Umag leaving at 21.30 on Friday and arriving in Umag at 09.30 next day.
Dalmatian Express – Bus line from Budapest to Zadar, Biograd, Sibenik, Trogir, Split, Omis and Makarska. It leaves Budapest at 19.00 on Friday and arriving in Makarska at 09,00 AM next day.
The same company also has a new line Budapest – Dubrovnik – Budva (Montenegro) in the same period. Between June 16th and September 9th you can use their Montenegro Express every Friday to travel from Budapest to Dubrovnik! This bus line goes through Bosnia and Herzegovina via Neum Corridor. The detailed timetable can be downloaded here, or you can find more info on their website.
All buses are leaving from Népliget bus station where you can buy all international tickets. The station is located in the 9th district at 131 Üllői street, Budapest. Here it is on the map!
It's easily accessible by public transport, using the M3 metro line and getting off at Népliget Metro station.
You can also find many low-cost Budapest to Split bus rides
on Flixbus here
. I highly suggest checking it out!
By Minibus to Split from Budapest

This is a door to door service which offers the fastest and easiest way from Budapest to Split or vice versa.
Eurobusways is one of the fastest ways of reaching Split within 8 hours, much faster than a night train. You can also fly, but from Budapest you have to go to Munich or Vienna and change flights to Split, which is much more expensive.
They offer:

Comfortable buses
WiFi on-board
No luggage fee
Free child seat
English speaking driver
Door to door transfer
Full flexible service
This is a van service (for 6 to 8 persons). This company can pick you up in any Budapest hotel and take you to harbor of Split to catch a ferry to one of Central Dalmatia Islands or spend few nights in Split city.
Enjoy their bus service on the way from Budapest to Split with full comfort on board. Their private transfer service can also stop anywhere you wish for lunch, breakfast or dinner or just sightseeing, and you decide what time to go.
Eurobusways offers full help for passengers with disability.
Find more buses Budapest – Split – Budapest
BalkanViator is a useful provider of information on bus timetables, bus tickets, taxi services and ride-sharing in Southeast Europe.
You can visit BalkanViator website to find info on bus connections between Split and Budapest.

Alternatively you can also find cheap bus tickets and connections via Flixbus, a company connecting hundreds of European cities in dozens of countries.
FlixBus enables you to quickly find all available routes and prices, simply select your departure and destination cities and click search.

Mini Rhapsody Tour By Busabout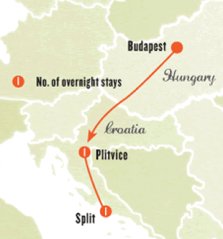 This mini 3-days Budapest to Split tour can be an excellent way to visit both the capital of Hungary all the way through Plitvice National Park to Split, capital of Dalmatia.
This is a top overland tour easily combined with one of their Croatian sailing trips or the Ottoman or Bohemian treks as you get to see Budapest, the aqua wonderland of the Plitvice National Park topped off with a fun Friday night in Split.
You'll also get a little insight into the Balkan lifestyle along the way.
What's included?
Itinerary:
Day 1: Budapest to Plitvice
Day 2: Plitvice to Split
Day 3: Split
Adult From €275.00
Student From €275.00
Prices are in Euro. Please see Busabout website for more accurate and current pricing.

Guide and driver
2 nights accommodation
2 breakfasts
Entry fee to Plitvice National Park
FREE Lonely Planet guidebook
Split isn't the end!!!
Promotion! Save up to 10% – Use Promo Code: "Summer10".

Private Transfer from Budapest to Split
I was also recently informed about PrivateTransferBudapest company which offers taxi transfers to Split from Budapest or vice versa. Their private taxi transfer can be arranged according to your own preferences, so if you'd like to make a stop in Plitvice Lakes or Croatia's capital Zagreb it's all easy.
You can choose from private cars, MPV's and vans or even buses, each suitable for 3, 5, 7 or 20 passengers respectively. If you're traveling with family or sharing expenses with friends, they offer a very comfortable and affordable way to get from Hungary to Split.
You can find more info and price list on their website! Prices for a basic transfer from Budapest to Split in a car starts at €650 (per vehicle, not per person).
Best way to get from Budapest to Split?
I outlined all the ways to travel from Hungary to Croatia, but there simply isn't any "best" way to travel. It all depends on your wishes and budget.
If you don't care about price or sightseeing and just want to get here as fast as possible, air travel is for you. You may miss some fantastic sights along the way but that's the price of convenience and speed.
One thing I of course didn't cover in this guide is traveling in your own vehicle. In case you have that option it's clearly the most convenient way offering you the freedom to explore as you wish and travel when and how you want.
You can also consider renting a car. There are companies offering one-way car rentals so you can drop your vehicle off in Split without additional costs. I highly recommend using AutoEurope or RentalCars for all your car rentals, it will compare dozens of different companies to ensure you can get the best possible price.
Trains are not particularly cheap nor convenient, as a train ticket from Budapest to Split will cost you over €100. They are also the slowest way to travel, and you will even have to change stations along the way. Trains in Croatia are notoriously slow, but this fact may not necessarily be a downside if you plan on sleeping most of the time.
Great choice for both budget and speed are buses. Budapest and Split are connected on daily routes (check Flixbus!). Bus ride from Budapest to Split takes about 10 hours, excluding any potential station transfers, and tickets are available all year long starting at €40.