Split markets are unique places like in any typical Mediterranean city. It would be quite impossible imagine Split without its fish and open green markets.
In spite  of many new supermarkets or shopping malls launched recently,  like Joker shopping center or  City Center Dalmatia's biggest shopping center located at the end of Vukovarska Street, Split does not lose its affinity to outdoors markets.
Don't be surprised to find these markets among Split's attractions as you will find them a unique experience, with colorful fish, fruits and vegetables with inevitable picturesque sellers. It has always been a mixture of sea and land, islanders, people of Split countryside.
Each time you are hungry, thirsty or short on cooking supplies, just visit these two markets to find everything you need. If you can't find what you're looking for in these markets, chances are it doesn't exist in Split.
If you are planning a self catering vacations in Croatia, renting a local home or apartment  for a week or more, than these markets will be your inevitable points of daily supplies.
Self catering in Split Croatia can save you money, especially if you decide to eat some of your own prepared meals, allowing you to discover  some open air Split markets and places of everyday fresh food. See all Split budget tips!
Split Markets – Pazar Green Market
The stalls of Split's daily Pazar Market runs along Hrvojeva Street from the east wall of Diocletian's Palace to the palace's Silver Gate.
This big open air market is located at the eastern side of the Diocletian Palace in front of Silver Gate offering everything you need.
Along the palace walls you can find cheap but low quality cloths and shoes from China or some worthless  souvenirs while the part closer to the ferry port you will find a green market.
The fact is that all fresh fruits or vegetable are only seasonal and locally produced at the local farms from the surroundings of Split.
The prices are rather reasonable but sometimes totally out of control especially in the high season. My advice is to negotiate before you buy anything.
The market opens around 7 AM and closes by 2 PM, but if you want to save, just go there  late in the morning (after 12 PM). It's a good time to bargain for slightly lower prices with the vendors.
If you want to buy fresh and quality products just follow where the locals are buying. The local housewives have 'their people' — vendors they are always buying from, just watch them and you won't be wrong.
Ribarnica – Fish Market
The fish market (Ribarnica) is only few corners away from Marmont street, a popular shopping area in Split.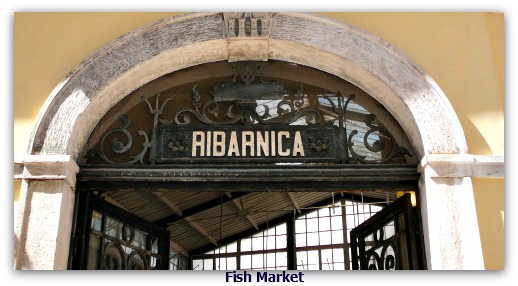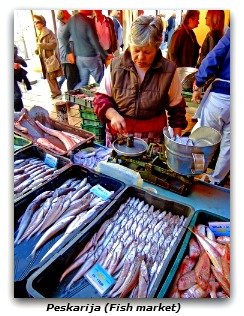 To the covered part with a iron gate you can find in the summer period an open area as the old place has become too small for the growing city.
This is a popular place for fish lovers and strollers, both local retired people and numerous tourist.
The secret of the fish market is that it's the only fish market in the world completely free of flies due to the sulfur springs in nearby vicinity.
The distance between this two popular markets is only 6 minutes walk from fish market passing over People's Square (Pijaca) entering Iron gate of Diocletian palace, following the main palace street all the way to Silver Gate, to Stari Pazar street. Sea the map below to find the shortest way!