Split ferry port may sometimes look as the most chaotic place in Split if you don't know how to find your way to your ferry destination.
If you are confused about the dozens of ferries sailing in and to different Central Dalmatian destinations, just follow my simple indications.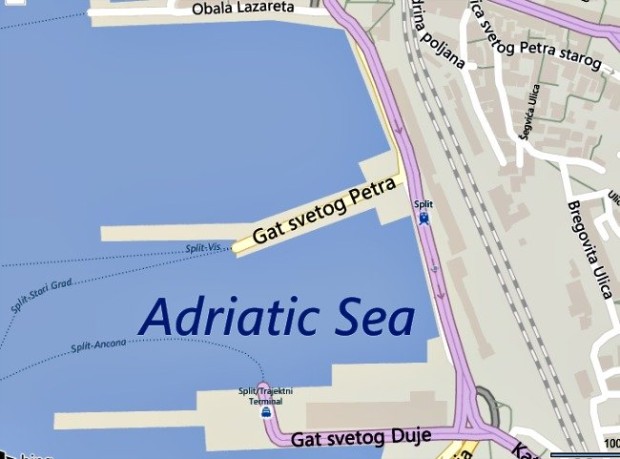 On the above map you can see three key points inside the Split passengers harbor with three piers according different destinations and types of  marine transportation, ferries for cars and passengers and catamarans only for passengers. Find here more about Split port history and development.
There is also forth pier called Lukobran,  used only by cruise ships. It was recently enlarged and deepened to be able to receive gigantic cruisers.
On the map you can easily find also Split Bus and Train stations, both are just close to each other.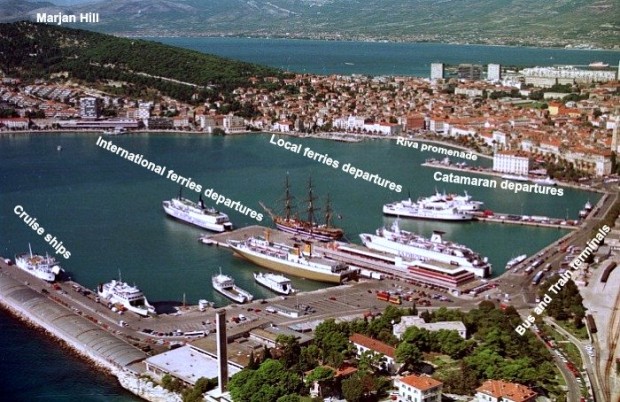 If you are arriving from Split airport by regular bus transfer or by taxi than you will stop at Obala Lazareta where all on foot passengers can take one of fast catamaran to one of the islands. See new 2015 catamaran schedule from Split port.
Split Ferry Port Docks
Car ferries sail from other two port pier, as shown on the photo. Usually all international ferries from/to Italy depart from Gat Sv.Duje (Gat means dock or pier) international pier while the majority of local island car ferries leave from local ferry pier Gat Sv.Petra.
It is important to note that local ferries to/from Split may not be reserved online.
If you need to book international ferry from Italy on Ancona – Split – Ancona route you can do it from here. You can book online also the route Ancona – Stari Grad (Hvar island) – Split – Ancona for travelers planning to reach Hvar island directly. (This route is only available July – August)
The special warning concerns all passengers traveling by car.
In the lower season (May-June and September- October) usually is not problem finding the place, but in high season (July and August) you should book a ferry for the car at least one day in advance and for boarding you have to show up several hours before departure as passengers can always get on board but space for cars can fill up.
Split Ferry Port Address
JADROLINIJA
Agencija Split
Gat Sv.Duje bb, Split
tel. +385 21 33 83 33, +385 21 33 83 04, +385 21 33 83 05
fax. +385 21 33 82 22
ag.split@jadrolinija.hr
Tickets can be purchased at the main office of Jadrolinija, the main ferry carrier
It is is located within the large ferry terminal opposite the bus terminal that runs all services departing from the docks around the terminal, or at one of the kiosks on Gat Sv.Duje pier.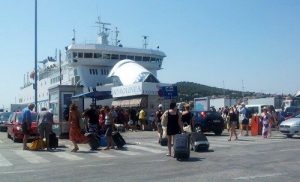 A new Split 2015 local ferries schedule is available to Supetar (Brac island), Stari Grad (Hvar island) and Vis island!
Kapetan Luka is a Croatian shipping operator with its head office based in Krilo Jesenice, near Split.
The company was established in 1889, as small cargo ship carrier. From 1970 has become a cruising, excursions and day trip company with high speed catamarans.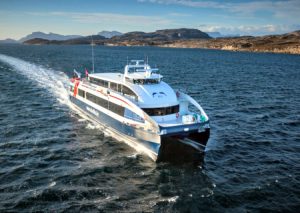 Starting from 04.05.2015. there is a new tourist high speed line Split-Brac (Milna)-Hvar-Korcula-Mljet-Dubrovnik and Catamaran Line 9602 Split – Hvar – Vis – Split. Booking online available!
Tickets sale point in Split ferry port for all Krilo's catamarans is at small kiosk at pier Gat Sv.Petar, the one on the photo indicated as local ferry dock. Tel. +0381 21 645 476. In Hvar town you can purchase tickets at Pelegrini Tours at Hvar Riva Promenade, tel. +0381 21 742 743.
From Split Airport to Split Port
The cheapest and easiest way to go from Split Airport to Split Port is to take an airport bus which leaves you off at Obala Lazareta, just a short walk from the ferry port.
In case you are getting to the port by your own or hired car, find out where to find parking place near the port. Split city suffers from a shortage of parking places.