Booking some Split day tours during your Croatia vacation is an excellent opportunity to visit nearby landmarks.
Your day tour choice can be active outdoor experience or scenic drive along the coast, hopping on a few nearby islands on a speedboat or hiking in the mountains.
I'll give you some of my favorite trip plans for a nice one-day getaway and you can decide what pace you want to take. You can always find something interesting to do.
You can even hire a local tour guide!
Below is the map of all recommended day tours from Split:
1. Plitvice Lakes National Park
The Plitvice lakes are Croatia's most famous national park and are among the most beautiful sights in Europe. Due to their natural diversity, they are part of the UNESCO World Heritage List.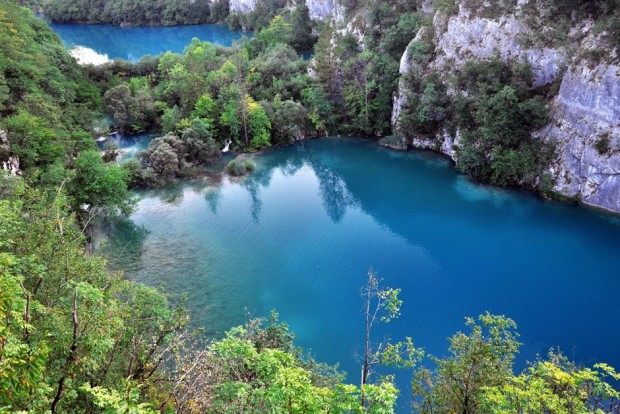 The Plitvice lakes consist of 16 connected lakes and numerous waterfalls, surrounded by dense forests. Many trails and small, wooden bridges, built just above the calm water, await you in Plitvice.
Besides on foot, you can explore the National Park by tourist train or boat throughout the whole year.
For booking and itineraries for 2017 I recommend you to check prices and availability on my trusted partner – day tour to Plitvice lakes from Split by Viator.
For your safety, I recommend wearing comfortable sneakers or walking shoes.
2. Krka River Waterfalls Split Day Tour
Krka National Park was established in 1985, and follows the line of the Krka river from its source in the foothills of the Dinaric mountains on its short journey through the dramatic karst landscape to its finish in the Adriatic sea near Sibenik.
The river flows through a limestone gorge, dropping over 220m in 50km, with eight sets of rapids. Only two falls – Skradinski buk and Roski slap – are in the park itself, although the first is the most impressive of all with a 46m drop over seventeen limestone steps.
After the noise and rush of the falls, visitors are surprised to find the tranquility of Visovac. This small island is the site of an old Franciscan monastery, established in the 16th century.
Now home to a library of books and manuscripts, the monastery is the best place for contemplating the serenity of the park in perfect peace and quiet.
Itinerary:
08:15 – 08:30 – Pick up and departure from Split
11:00 – 13:15 – Sightseeing on Skradinski buk
13:45 – 15:45 – Sightseeing Roski waterfall, time for lunch
16:30 – 18:00 – Sightseeing Sibenik & Cathedral of St. Jacob
19:30 – Return to Split
3. Blue Cave and Hvar Town Tours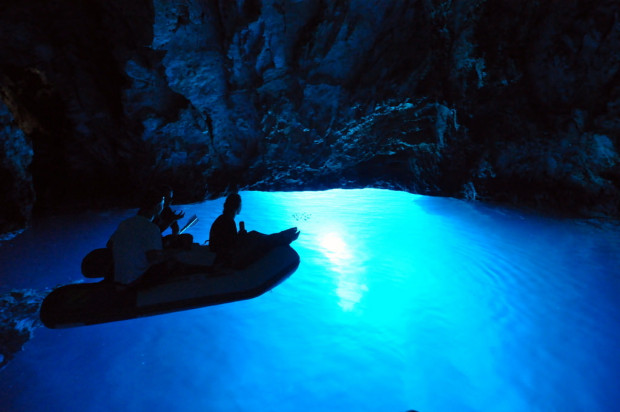 Blue cave (Modra Spilja) is situated on Bisevo island (5.8 sq. kilometers) about five kilometers south west from Vis island.
The island of Bisevo is a famous excursion site, with one-day excursions organized from Split and Komiza and Vis, but also from other islands in vicinity such as Hvar. Usually all tours start first by visiting the Blue Cave, followed by swimming in one of the coves, and it finishes with an exquisite fish lunch.
Split day tours to Blue Cave and Hvar town start from Obala Lazareta in Split ferry port usually ay 08:30 A.M. Here is the full excursion description!
Itinerary:
08:30 – Start form Split harbor (waterfront)
10:30 – 11:30 – Sightseeing of Blue cave
12:00 – 13:00 – Visiting Komiza on Vis Island and free time for lunch
13:30 – 15:00 – Swimming at Stiniva Bay and Green Cave
16:00 – 18:00 – Visiting Hvar town and free time
19:30 – Back to Split
4. Split Day Tours To Dubrovnik
It's almost unimaginable being in Croatia without visiting Dubrovnik, the pearl of Adriatic sea.
The town of museums and festivals, the town of taverns and restaurants, the place of a mild Mediterranean climate and wonderful landscapes confirms the famous saying of the Irish writer Bernard Shaw:
"Those who look for a paradise on earth should come to this town."
Isn't this a sufficient reason for you to set out for Ragusa and verify this statement? Find out more about Split day tours to Dubrovnik from Split, and make sure to read my Dubrovnik travel guides before you visit!
Itinerary:
07:45 – Pick-up and departure (bus tour)
10:00 – 10:45 – Visiting Ston
12:00 – 13:00 – Dubrovnik sightseeing tour with local guide
13:00 – 17:00 – Free time for lunch and shopping
20:00 – Return to Split
5. Kornati Islands National Park
"On the last day of the Creation, God desired to crown His work, and thus created the Kornati Islands out of tears, stars and breath!" – GEORGE BERNRAD SHAW.
Beautiful nature, a network of countless islands and islets, the magnificent sea – all this makes the Kornati Islands an attractive destination of numerous excursionists and boaters.
Itinerary from Trogir:
07.00-07.30 – Departure from Split
09.00 – Boat drive from Vodice
12.00-16.00 – Sightseeing and free time
18.00 – Return to Vodice.
19.30 – Back to Split
For more info and booking simply visit this site.
6. Split Day Tours To Hvar Town
Hvar is the biggest town on Hvar island, called the "Croatian Madeira". Hvar receives more than 2724 hours of sunshine each year, more than anywhere else in the country.
Medieval Hvar is a small town that lies between protective pine-covered slopes and the azure Adriatic Sea.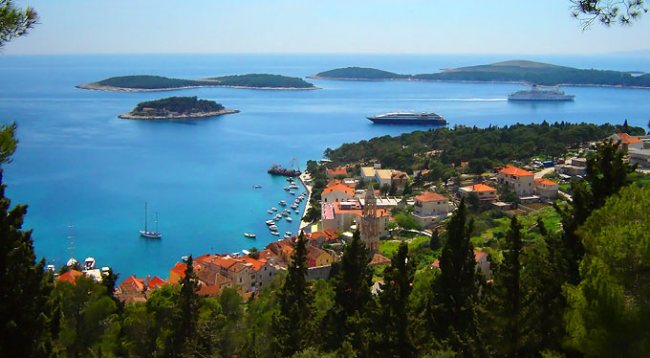 Pakleni otoci – the oldest and most famous Hvar's resort, spacious lagoon with shallow and sandy beach, surrounded by the thick, pine forest, fragrant heather and rosemary bushes and various, exotic plants.
As one of Croatia's most expensive destinations, Hvar is not in everyone's price range. But if you intend to only visit this town and island on a day trip you can easily book your speedboat excursion for around €80, which is often the price of a one-night stay in most hotels and apartments on Hvar.
Itinerary:
09:00 – Departure from Split
09:45 – 10:15 – Coffee stop in Milna on Brac Island
11:00 – 12:00 – Hvar town sightseeing with local guide
12:00 – 14:30 – Free time for sightseeing and lunch
15:00 – 17:30 – Visiting Pakleni Islands, time for swimming
19:00 – Return to Split
7. Brac And Bol Zlatni Rat Beach Tour
Situated on the south side of Mt. Vidova Gora (778 m – highest peak on all Adriatic islands) with it's numerous natural and historical attractions, Bol on Brac island is a famous destination with one of the most beautiful beaches in the world – Zlatni rat (Golden cape).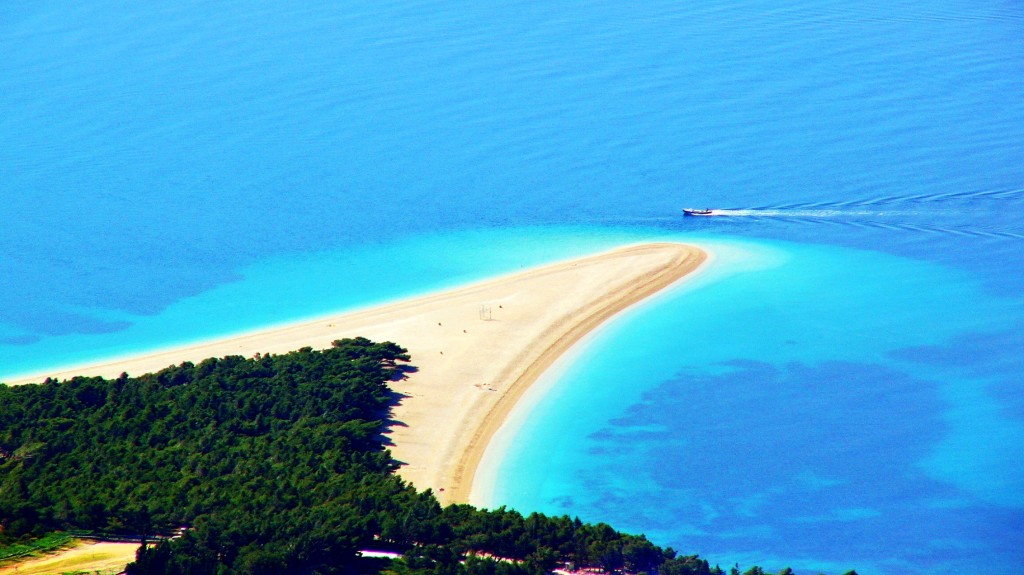 This beach is often considered one of the ten most beautiful beaches of the world. "Zlatni Rat" or Golden Horn changes its shape with the currents and winds in turquoise blue Brac channel.
This natural phenomenon is one of the biggest and the most beautiful Adriatic natural attractions. You will be able to enjoy swimming in the clear blue water, wind surfing and water skiing while relaxing in the afternoon summer breeze.
Itinerary:
9:00 – Departure from Split
10:30 – 17:30 – Free time for swimming and lunch
19:00 – Return to Split
This Split day tour is organized by many different Split excursion agencies!
8. Split Day Tours To Medjugorje
Međugorje is now visited by pilgrims from around the entire world as a shrine, and ?ne ?f the biggest prayer centers ?n the world, comparable t? Lourdes ?nd Fatima.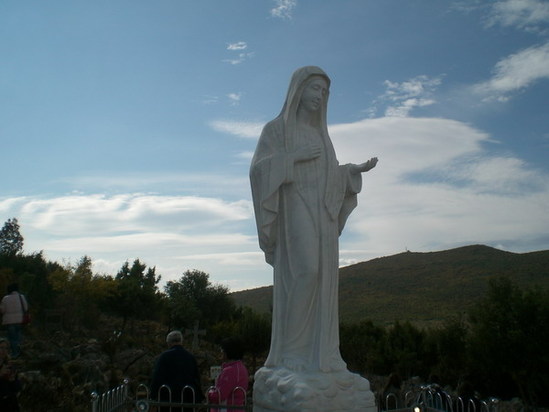 Your private tour guide will explain you more about this city and show you the religious sites. You will have free time to discover the city on your own and climb up on the Apparition Hill (where the Virgin Mary appeared in 1981).
This is an amazing day trip that enables you to discover Croatia's neighbor Bosnia and Herzegovina, visit an important religious site, and discover a fantastic little town of Mostar.
Below are some of our most frequently requested itineraries for Medjugorje Private tour:
Split – Medjugorje – Split
Split – Medjugorje – Kravice Waterfalls – Split
In case you decide to take a regular bus to Medjugorje from Split main bus station, below are Split day tours departures to Medjugorje:
9. Klis Fortress & A Game of Thrones Tour in Split
I've have already proposed this 'do it yourself day excursion' for families with children, but after I've read Tricia's blog on Klis Fortress it might be a good idea to visit this fortress again as it was spectacular.
'One of the filming locations for Season 4 of Game of Thrones, as well as host to dramatic events over the millennia, the Klis Fortress appeals to Game of Thrones fans and history enthusiasts looking for things to do in Split'.
Just follow Tricia's traces if you would like to find a good place for dining where she went hiking, and wined and dined at 400 meters above the Adriatic Sea. I would highly recommend to try 'vegetables and meat roasted under a peka bell'.
If you prefer a guided tour with professional tour operators, I recommend you visit my partners at Viator here and see their exclusive offers.
10. A Day Excursion to Red And Blue Lakes Imotski
There are some Split hinterland highlights less known which deserve to be visited. One of these Split day tours is to Red and Blue lakes near Imotski. Considered one of the world's largest sink holes, these lakes will be an unforgettable day trip.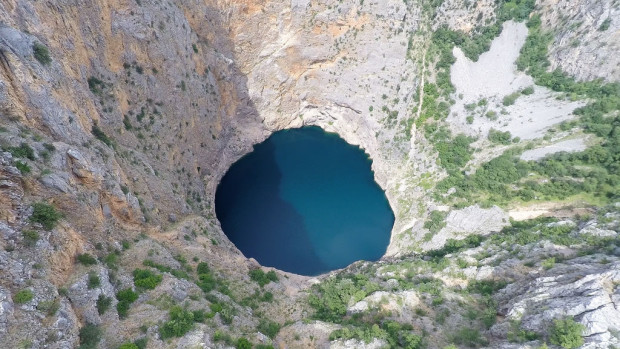 On Jan Skov's website about Imotski you can find all about these lakes and how to get to Imotski. Distance from Split to Imotski is about 88 km, which you can reach within an hour driving by car, or taking the bus from the bus station in Split port bus terminal.
I'm sure you'll enjoy these two beautiful lakes on this Split day tours and take time to visit also Blue Lake towers Fort Topana built by a Croatian duke in the 9th century.
11. Sinj town – Alka Knights Tournament
This traditional tournament has been held every first weekend of August in the small town of Sinj Croatia, since 1715, honoring the victory over Ottoman Turkish invaders. It's one of the most impressive Split day tours held every year, so don't miss it if you're nearby.
The name ALKA refers to metallic object made of two concentric rings connected with three bars. The object is hung on a rope 3.32 meters above the race track. The aim of every alkar (knight) is to hit the center of the ring with his spear riding the horse in full gallop.
Depending of which part of the ring they hit, they gain from 1 to 3 points. The whole competition is made of three rounds.
The competition is conducted by Vojvoda (Duke) representing the commander of knights usually the most notable men from Sinjska Krajina (Sinj town county).
Only men born in the city of Sinj and surrounding villages can take part in this tournament, considered the highest privilege to each participant.
This tournament is a picturesque reminder of the glorious history events and a richly costumed parade which has become a public manifestation held annually. A great experience for every visitor.
Another important idea of Split day tours is a famous procession of Lady of Sinj locally called Sinjska Gospa, held each year on August 15th.
Sinjska Gospa is evidently a miraculous image of the Virgin Mary, displayed in the local church. Locals believe she helped local population defend against the Turkish invaders back in 1715. This image draws pilgrims from all over Croatia to this town each year.
How to get to Sinj?
The best way is to take a bus connection from Split bus station. It runs almost every 30 minutes from Split. Bus station Split is located in the very center of the city, right next to city harbor and railway station.
12. Hot Split Day Tours Sea Excursions by Summer Blues Catamaran
There is no better way to enjoy Split and neighboring islands besides sailing. Summer Blues company offers unforgettable days at their new mega catamaran SUMMER BLUES departing from Split.
From Split – MEETING POINT: Summer Blues info desk, Obala Hrvatskog Narodnog Preporoda 12 (Riva promenade) – View on Google Maps.
Itinerary:
Island Cruises: Brac, Hvar & Pakleni islands
Solta, Brac, Ciovo & Split Riviera Cruises (afternoon excursion 15:30-20:30)
Hvar town, Pakleni islands & Vis (09:30-20:00)
Sail away to Brač & Solta with DJ music program (afternoon excursion 15:00-20:00)
Sail away to Hvar and Pakleni islands (Ultra Beach day)
Sail away to Brac & solta with DJ music program (morning excursion 09:00-14:00)
Info – Summer Blues website!
13. Split Day Tour To Olive Groves On Solta Island
If you want to make a informative and gourmet trip and relax away from the city bustle, I recommend Solta island. The island of Solta is well known for its production of quality olive oil, wine and honey.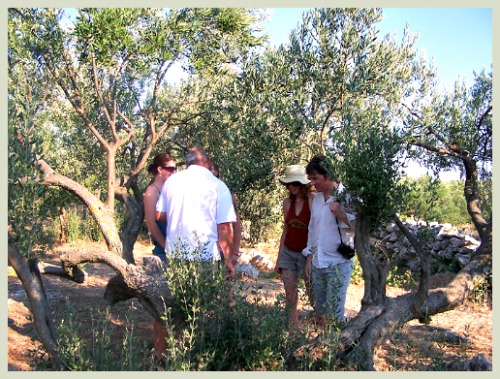 Solta is only a 45 minute cruise by ferry from Split, with both morning and afternoon trips. When you arrive on Solta, you will be met by one of local guides in Rogac settlement who will take you to the ancient groves of Olynthia Natura (Old name for Solta island).
You will love the ride through the island's untouched nature, with its smells of grass and herbs. Some of the olive trees are more than 1000 years old, and it can be found only in this part of the world.
In this tour you'll be able to taste traditionally made olive oil, and learn exactly how it's made. Don't dare to skip your fantastic (and free) 3-course lunch, and make sure you give a taste of the wine.
---
That's It! Those are my 13 recommended day trips you can make from Split to see the rest of my beautiful country!
Need more ideas? Be sure to check Viator (200+ tours and day trips) and Happytovisit (170+ tours) for more options!
Vast majority of guided tours range from €60 to €90 for a group of people, and include a professional local tour guide, transport in air-conditioned vehicles, and often even a free lunch (please verify each tour before booking to make sure that's the case).
Even if you aren't traveling with your own car you can easily visit many different destinations near Split without spending much of your vacation budget.
My most important recommendation though is to make sure you visit at least one or two of these destinations during your vacation. I love Split, but it would be a shame not to experience at least a little bit more of my beautiful country, and I know you won't regret it.